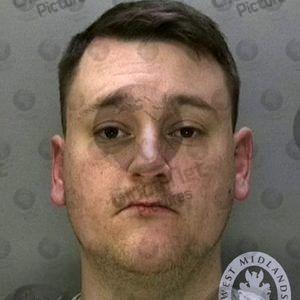 Birmingham City dad-of-one, described by ex-pals as a 'meathead', has received death threats after he ran onto the pitch and punched rival club's midfield ace during televised match
Father-of-one Paul Mitchell, 27, of Rubery, Worcs, has been jailed for 14 weeks for assaulting Aston Villa footballer Jack Grealish, which was captured on TV cameras during the live Sky Sports televised football match between Birmingham City and Aston Villa yesterday (Sunday).
Mitchell ran on to the pitch and hit Grealish from behind about 10 minutes into Sunday's game.
He pleaded guilty to assault and encroachment on to the pitch at Birmingham Magistrates' Court earlier today.
Mitchell, of Cock Hill Lane, was also ordered to pay £350 in fines and costs and has been banned from attending any football matches in the UK for 10 years.The £350 includes £100 in compensation for Grealish's "pain, discomfort and shock".
His solicitor, Vaughn Whistance, told the court he "cannot explain what came over him yesterday morning. His initial foolish intention was to just go on to the pitch and whip up the crowd."
The Villa midfielder was able to continue with the game at St Andrew's and went on to score the winning goal in the 67th minute.
Mitchell, a pub worker, claimed he was not drunk when he invaded the pitch and punched Grealish in the jaw.
"I cannot help but feel how lucky I was in this incident," the player said.
"It could have been so much worse had the supporter had some sort of weapon."
Birmingham City apologised to both Grealish and Villa immediately after the game and said Mitchell had been banned from St Andrew's for life. He has also been banned from away games.
The club said there were "no excuses" for his behaviour, which "has no place in football".
TV captured the moment Mitchell ran onto the pitch and swung a punch from behind at the face of the Villa player before he was tackled to the ground by a steward.
The married father of one saluted the Birmingham fans with a raised fist before he was tackled to the ground.
 The Sun Online reports Mitchell has been described as a "meathead" by ex-pals. He ran a working men's club in Dordon, Warwickshire, until recently, which has received death threats since the attack.
A drinker said: "We've had calls from people issuing death threats against him.
One said, 'We're coming after the game, we're gonna burn the place to the ground then burn his house'.
"His family are worried. We were all watching and no one could believe what Paul did. He's loud and not the brightest but this was totally insane."
Lee Hendrie, an ex-Villa player and pundit watching the match on Sky Sports football, said: "That is literally the worst thing I've seen on a football pitch."
Midfielder Grealish had the last laugh though later scoring the only goal of the game and appeared to be shoved by a Birmingham steward as he celebrated.
Birmingham City now face a possible points deduction over the incident and a ban on fans. Birmingham City have since apologised to local rivals Aston Villa and promised to review security at the St Andrew's stadium.
Match commander Supt Nick Rowe confirmed police are investigating Birmingham City, stating: "An attack on a player is completely unacceptable and outrageous."
West Midlands Police said it was also investigating "offensive social media posts" that appeared after the goal referencing Grealish's younger brother, who died when the midfielder was four.
Birmingham City said it had banned another supporter for life over the "vile and malicious" tweets.
Mitchell, who has been a season ticket holder for 20 years, was said to be "very remorseful" after realising he had "brought shame" on his club.
His defence asked for community service or a suspended prison sentence but magistrates ruled that a "message had to be sent out to fans".
The father-of-one's prison sentence "should be a deterrent", magistrates added.
During the court hearing, Mr Whistance said online threats had been made to Mitchell.
Mr Whistance said his family had left the area "through fear that they would suffer serious harm or even death".
An FA spokesperson said "a line had been crossed" and strongly condemned the attack, as well as another pitch invasion during the Manchester United and Arsenal match.
It has written to Birmingham City to examine the club's security measures.
The club said it had begun reviewing all of its stewarding, safety and security procedures "as a matter of high importance".
"We will be putting into place extra measures at our stadium designed to help ensure the safety of players, as well as supporters," a spokesman said.
The club also confirmed it was investigating an incident involving a steward "after Aston Villa players celebrated their goal on Sunday in front of their supporters in the Gil Merrick Stand".
Meanwhile, former England player Phil Neville said drastic action was needed to ensure the safety of players.
"Either through points deductions or by emptying stadiums and making clubs play behind closed doors," he said.
In 2002, a Birmingham City fan who ran on to the St Andrew's pitch and confronted Aston Villa goalkeeper Peter Enckelman was jailed for four months for encroaching the playing area and using threatening behaviour.