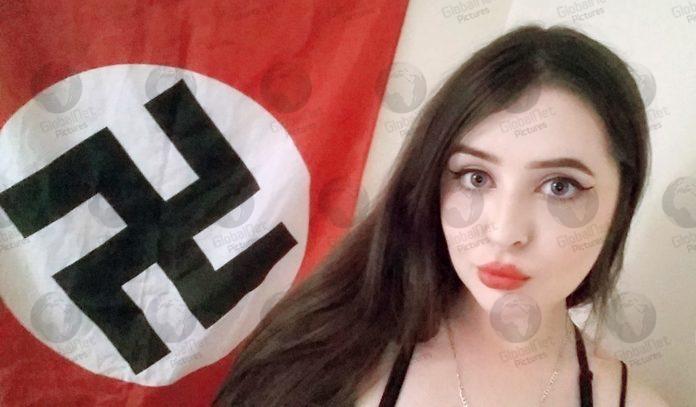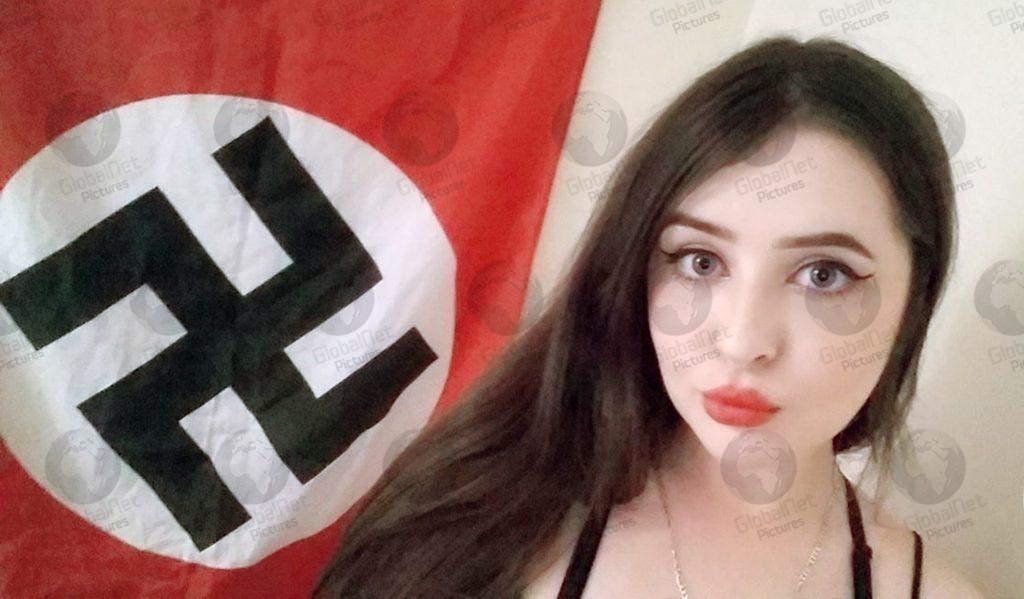 "Miss Hitler" beauty queen contestant Alice Cutter, 23, has been jailed along with her-ex boyfriend Mark Jones, 25, and three others for being members of the banned extreme right-wing neo-Nazi group National Action.
Cutter had entered the Miss Hitler beauty contest under the name of Miss Buchenwald – a reference to a World War Two death camp.
She posed in a low cut top with a face mask and in front of a swastica flag and wearing a similarly designed shawl as she pouted for the camera for the Miss Hitler 2016 pageant.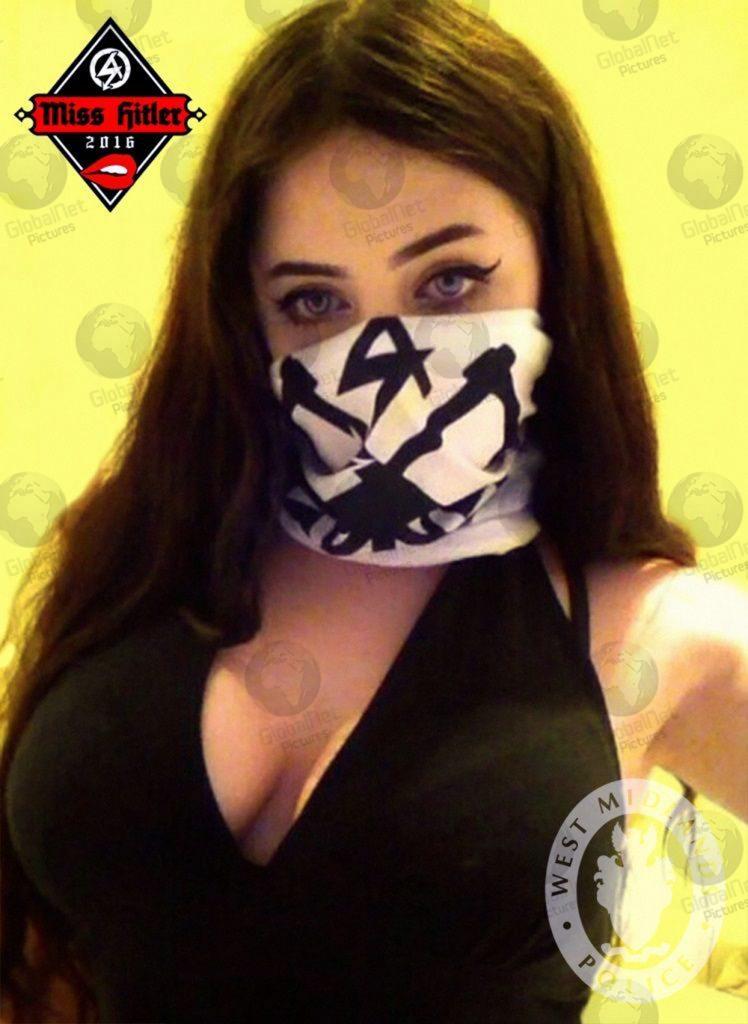 National Action was outlawed in 2016 after it celebrated the murder of Labour MP Jo Cox.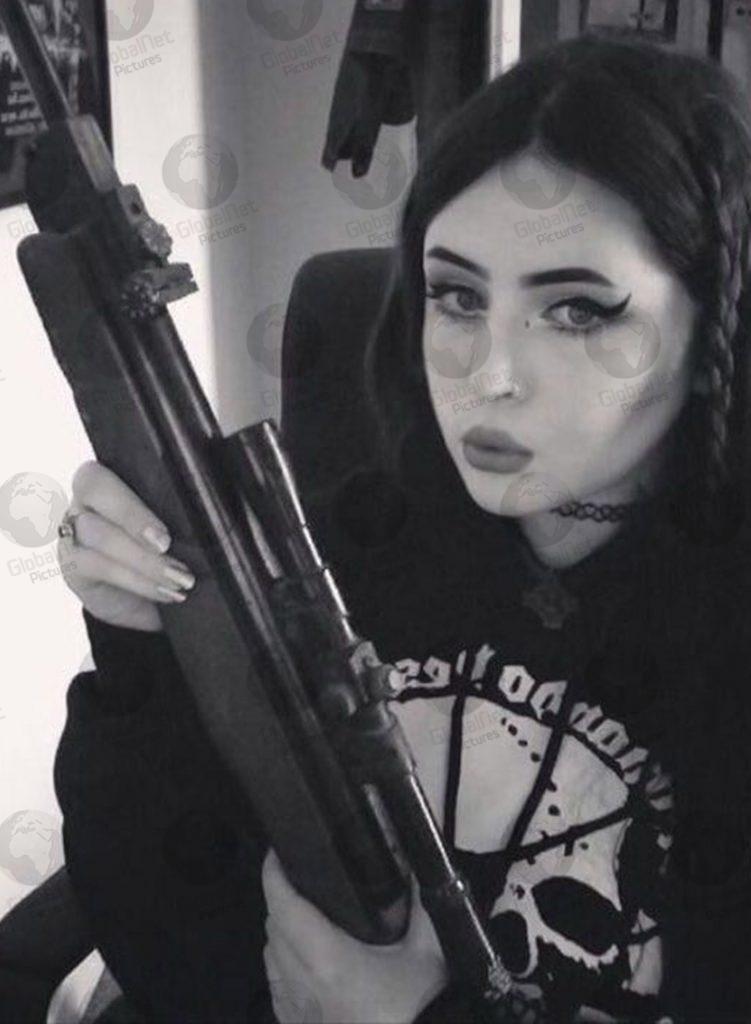 Cutter, Jones, Garry Jack, 24, and Connor Scothern, 19, were convicted of being members of a terrorist group. Cutter was jailed for three years, Jones for five-and-a-half years, Jack sentenced to four-and-a-half years and Scothern detained for 18 months at Birmingham Crown Court.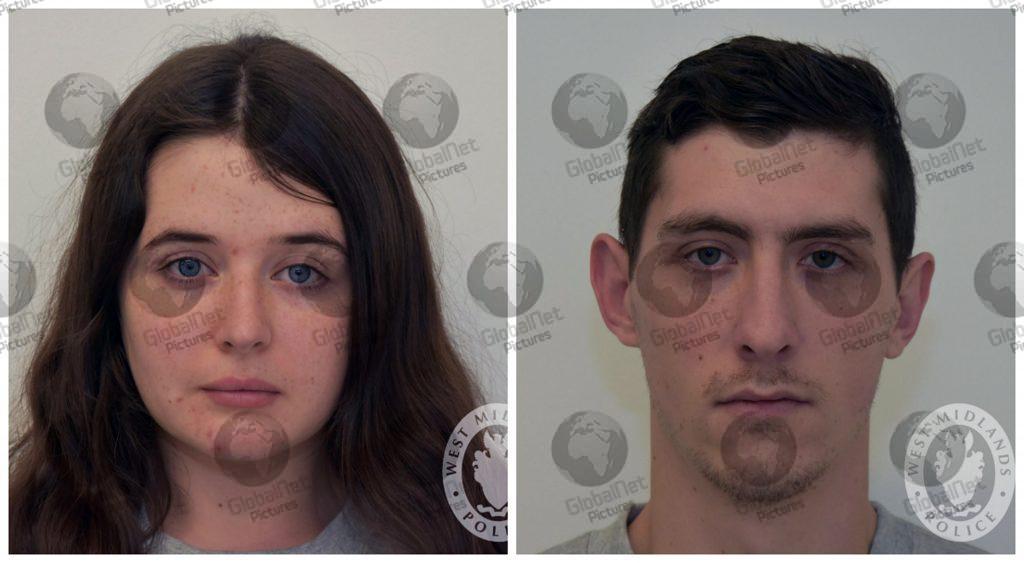 They have been sentenced now after Cutter and Jones (pictured here in their mugshots), both of Sowerby Bridge, near Halifax in West Yorkshire, were convicted along with Jack, of Shard End, Birmingham and Scothern, of Arnold, Nottingham, at a trial in March.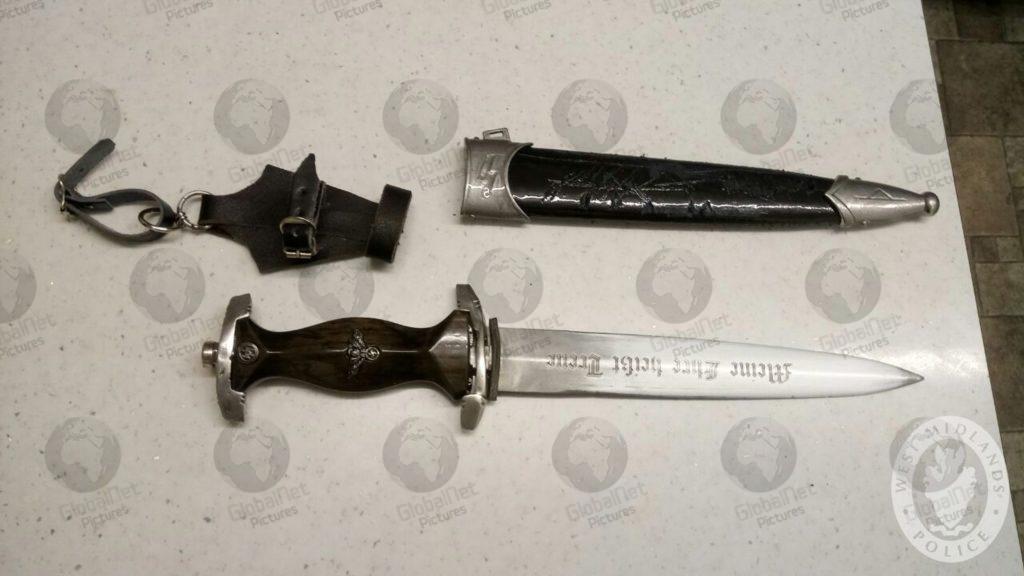 Ornate inscribed german dagger recovered from the neo-Nazi group National Action
They were told they will have to serve at least two thirds of their sentence before they can apply for parole.
Cutter denied being a member of National Action, despite being seen attending the group's rallies where banners reading "Hitler was right" were raised.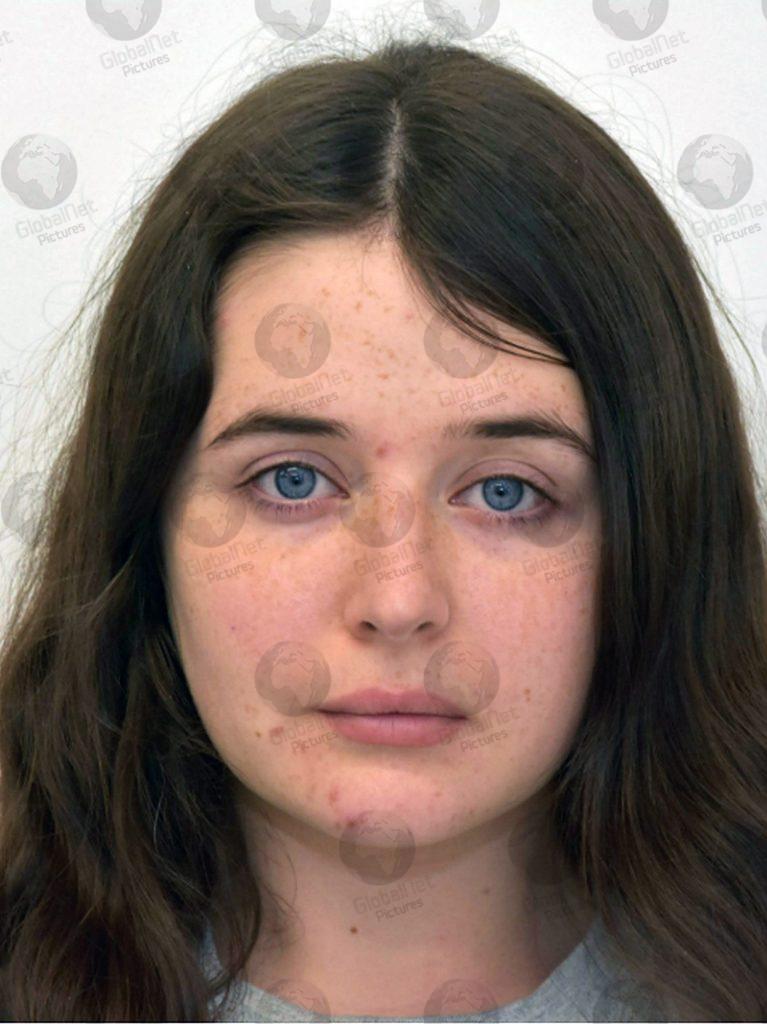 Alice Cutter pictured after her arrest
In court the jury was shown messages in which Cutter joked about using a Jew's head to play football and about gassing synagogues.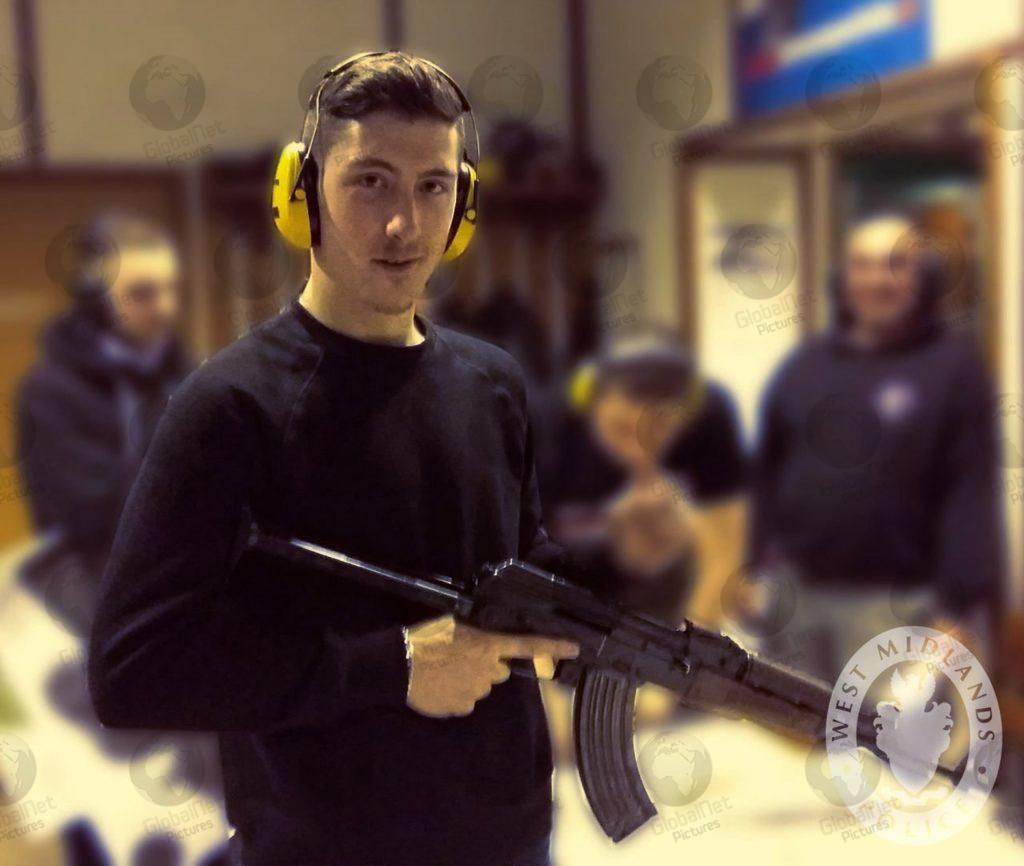 Mark Jones mugshot and posing with an AK-47
Jones, who organised members' physical training, was the group's London regional organiser. He later moved to Yorkshire and admitted posing for a photograph delivering a Nazi-style salute and holding a National Action flag in Buchenwald's execution room during a trip to Germany in 2016.
Connor Scothern was detained for 18 months and 'considered future leadership material'
The court was told Cutter was "an active member" of National Action.
Jack was previously given a suspended jail sentence for decking out Birmingham's Aston University campus with racially-aggravating National Action stickers in July 2016, some of which read: "Britain is ours, the rest must go." Scothern was described as "one of the most active members of the group" who was "considered future leadership material".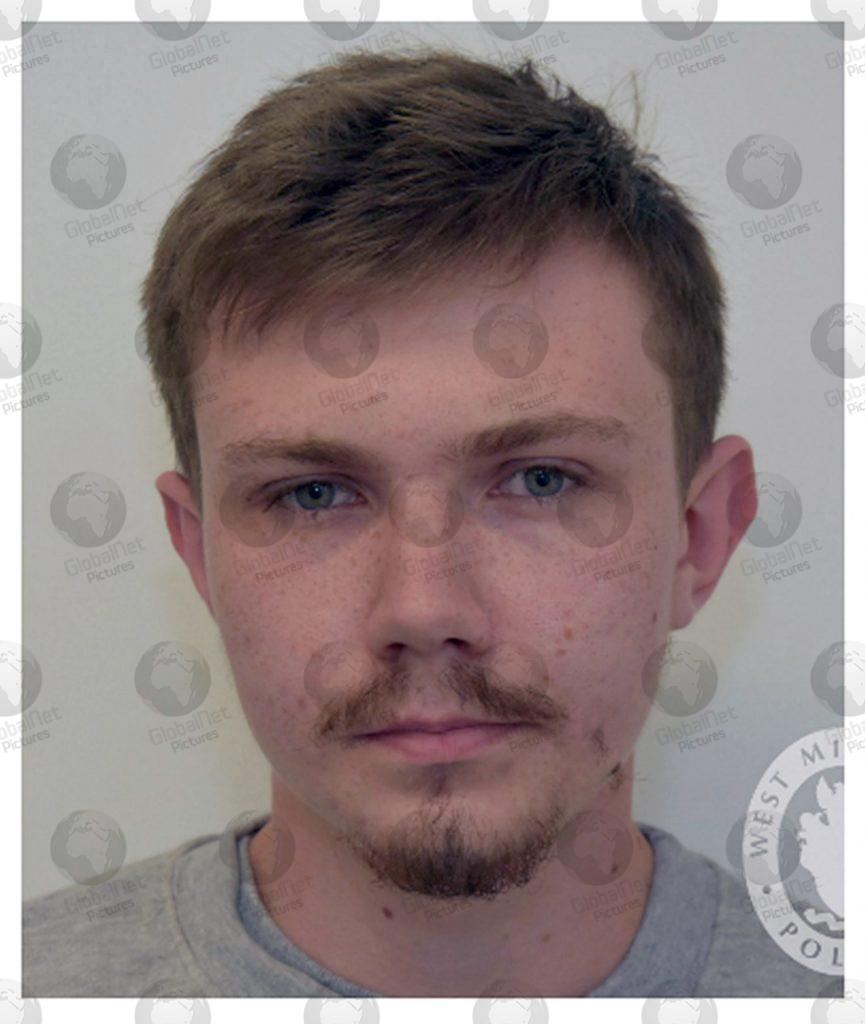 Garry Jack received four-and-a-half years
A fifth man, Daniel Ward, 28 from Bartley Green in Birmingham, pleaded guilty to being a member of National Action last year and was jailed for three years.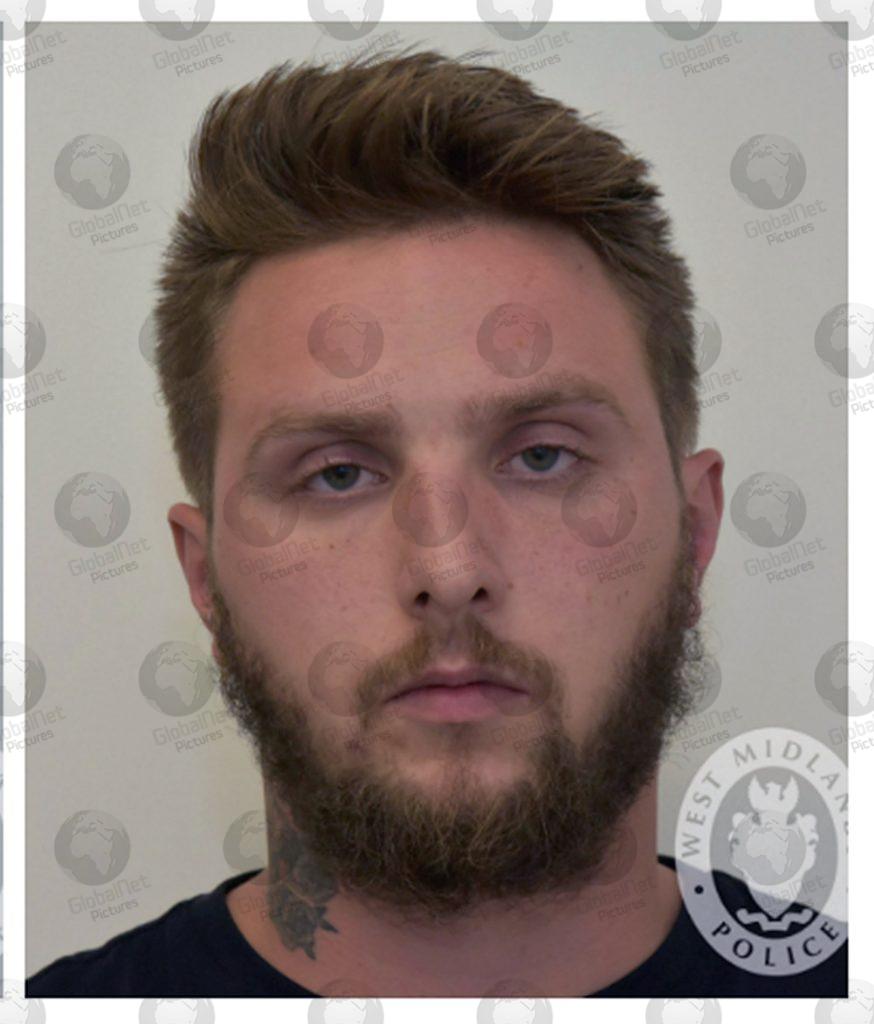 Daniel Ward got three years
National Action was formed in 2013 and in December 2016 became the first organisation to be banned by the government since World War II.
The group became members of National Action pre-proscription and regularly met to share their extreme ideology and attend demonstrations, however when the organisation was banned, they continued to communicate covertly using encrypted messaging platforms.
They held secret meetings to discuss their ambitions for a race war whilst recruiting other young people to the group, sharing intensely shocking images mocking the holocaust and glorifying Hitler.
Head of West Midlands Counter Terrorism Unit (WMCTU), Detective Chief Superintendent Kenny Bell said:"Terrorists and extremists use this kind of ideology to create discord, distrust and fear among our communities and we strive to counter this. I would encourage people to report hate crime to us and it will be taken seriously."
The Director of Public Prosecutions, Max Hill QC, said described the defendants as "diehard" followers, adding: "They hark back to the days of not just anti-Semitism but the Holocaust, the Third Reich in Germany, and they take their mindset from those extreme Nazi groups and latterly neo-Nazi groups in Germany."
Follow us on Facebook, Instagram and Twitter
#globalnetpictures
#GlobalNet_Pics
#NationalAction
#MissHitler
#MissBuchenwald
#Neonazis
#AliceCutter
#beautyqueen
#MarkJones #Holocaust