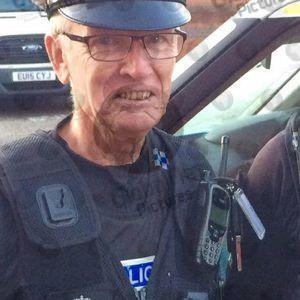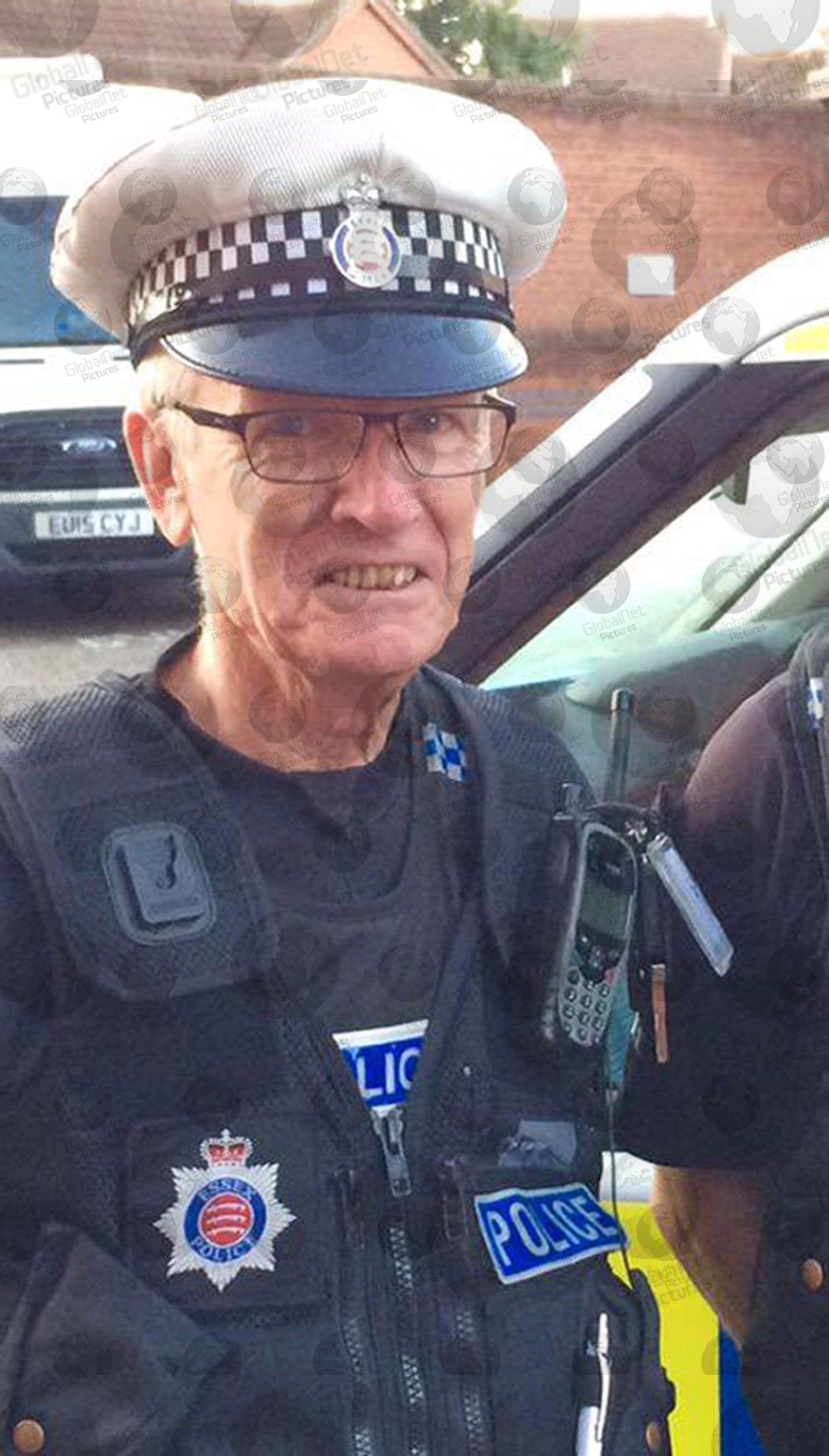 Superfit OAPC praised for heroic effort after chasing down much younger man
OAPC Keith Smith, 74, has shown that age is just a number after he managed to chase, subdue and arrest 29-year-old suspect Paul Tait in Benfleet, Essex.
Special constable Keith, Britain's oldest police officer belied his age and has received the highest praise from colleagues and on social media following the arrest on Tuesday, with one suggesting he should receive an OBE.
Superfit Keith showed he is still remarkably agile at 74 after taking down the suspect following a high speed pursuit and chase on foot.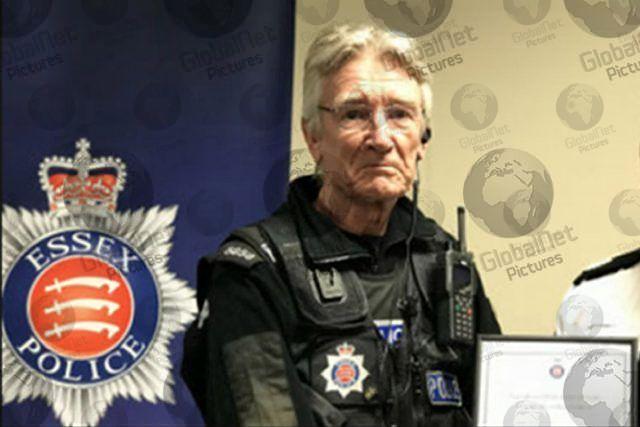 OAPC Keith Smith, 74, receives an award from Essex Police for his efforts
SC Smith was driving a marked police car on patrol in Benfleet when he tried to get the suspect to pull over in his vehicle. The driver failed to stop resulting in a car chase which ended when the suspect pulled over, stopped the car and made a run for it. Sprightly constable Smith leapt out of his patrol car and gave chase through the neighbourhood.
Keith managed to keep up on the tail of the desperate much younger man and following the pursuit tracked him down to the garden of a house where he managed to subdue and arrest him.
Mr Smith's superhuman efforts have been widely praised on social media by various Essex public figures and members of the public.
The Southend Specials Constabulary team tweeted: "Amazing work!! From all of the Southend Specials #policefamily".
The Essex Roads Policing Unit tweeted on Tuesday afternoon: "Our very own Special Constable Keith Smith has just had a vehicle FTS for him in Benfleet."
Despite being 74 years old he engaged in not only the pursuit but a foot chase detaining the suspect in the gardens of a nearby house."
A Colchester resident tweeted: "What an absolute legend!! Someone write to Queen and get him an OBE or sommat!"
Joshua Darling, another Colchester resident, tweeted: "Surely Keith should have his feet up relaxing not chasing billy the burglar! Great work though, makes me feel like joining Essex Specials."
The arrested man is due to appear in court this morning (Thursday) charged with a number of offences.
A spokesman for Essex Police said: "A man is due to appear in court after being arrested by a long-serving Special Constable."
John Tait, 29, of no-fixed address, was arrested by SC Smith in Benfleet on Tuesday at around 12.25pm.
"He was subsequently charged with driving while disqualified, driving without insurance, failing to stop and harassment."
Tait will appear at Southend Magistrates' Court today for a plea and trial preparation hearing.
Keith, a keen biker, blues guitarist, and motorbike and classic car enthusiast, has made headlines before working as a special constable.
In August last year he helped save an elderly driver from a potentially tragic accident on the A12, which was reported on the Essex Police website.
Keith went to investigate in his patrol car after police received reports of a driver weaving dangerously all over the road in and out of lanes on the A12. He tracked down the driver and put his blue lights and siren on to try to pull the car over.
But the driver did not react to the flashing lights so Keith drove alongside him and could see that he appeared dazed. Motorcycle cop Sgt Rob Dalton then also arrived on the scene and between them they pulled the driver over at the next junction.
Keith noticed that he seemed very confused and it was clear that he was unwell. After establishing that he wasn't under the influence of alcohol or drugs, Keith called for an ambulance.
When paramedics arrived shortly after they suspected that the man could be suffering from an infection and he was taken to hospital for further treatment. Keith then informed the man's family and arranged for his car to be picked up.
SC Keith Smith has volunteered his time with Essex Police for more than 20 years.
Last year, Keith volunteered a staggering 2210 hours and 55 minutes with Essex Police Roads Policing Unit to help make the roads in Essex safer.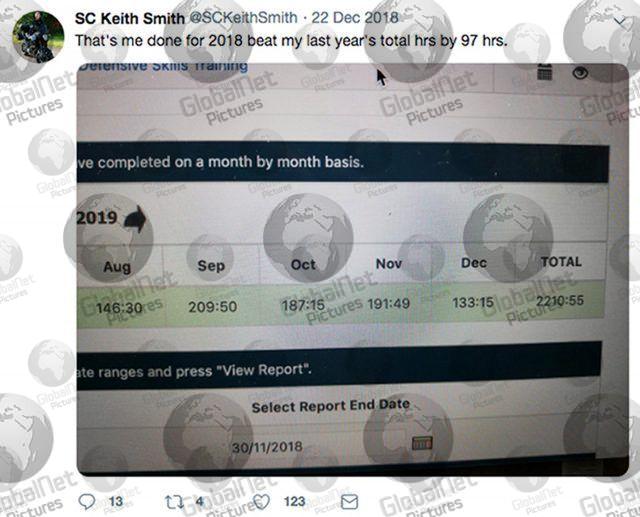 Keith posts on Twitter the remarkable 2210 hours he put in working for Essex Police in 2018.
He was proud of the hours he put in, beating his previous year's total by 97 hours, and he posted the feat on his own Twitter page, where fans can find out more about Keith's roads policing role by following him on Twitter: https://twitter.com/SCKeithSmith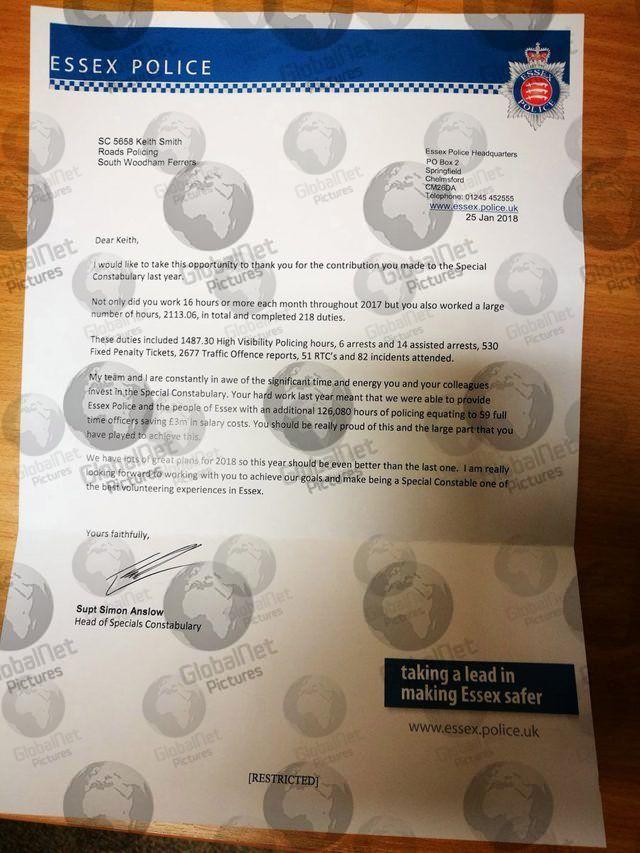 Special cop Keith Smith is thanked by the Head of Specials Constabulary for the remarkable 2113 hours he put in working for Essex Police in 2017