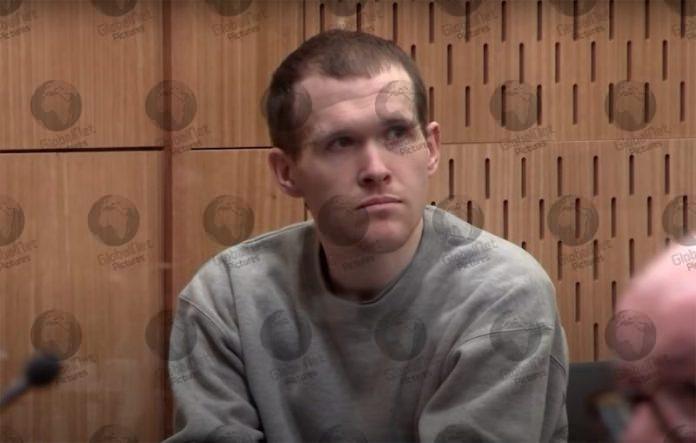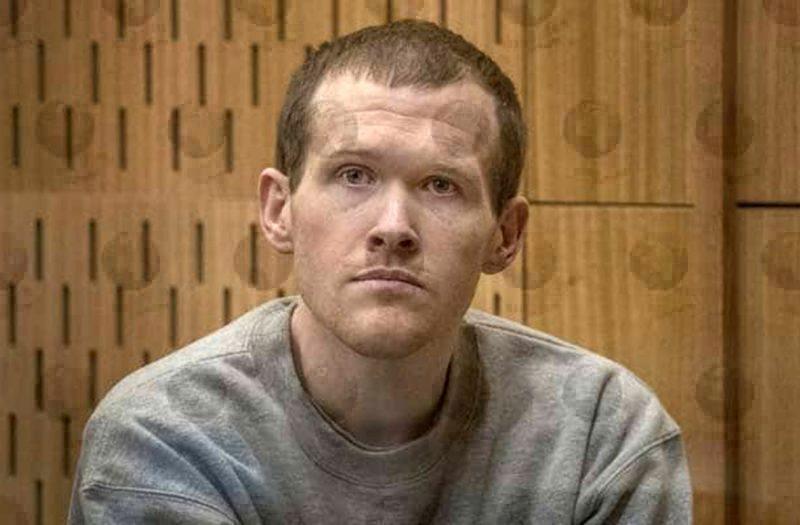 Australian white supremacist Brenton Tarrant, 29, who killed 51 people, planned a third mosque attack, a court in New Zealand heard today.
His third attack was stopped when police rammed Tarrant's vehicle and he was dragged out of his car and arrested while on his way to the Ashburton Mosque.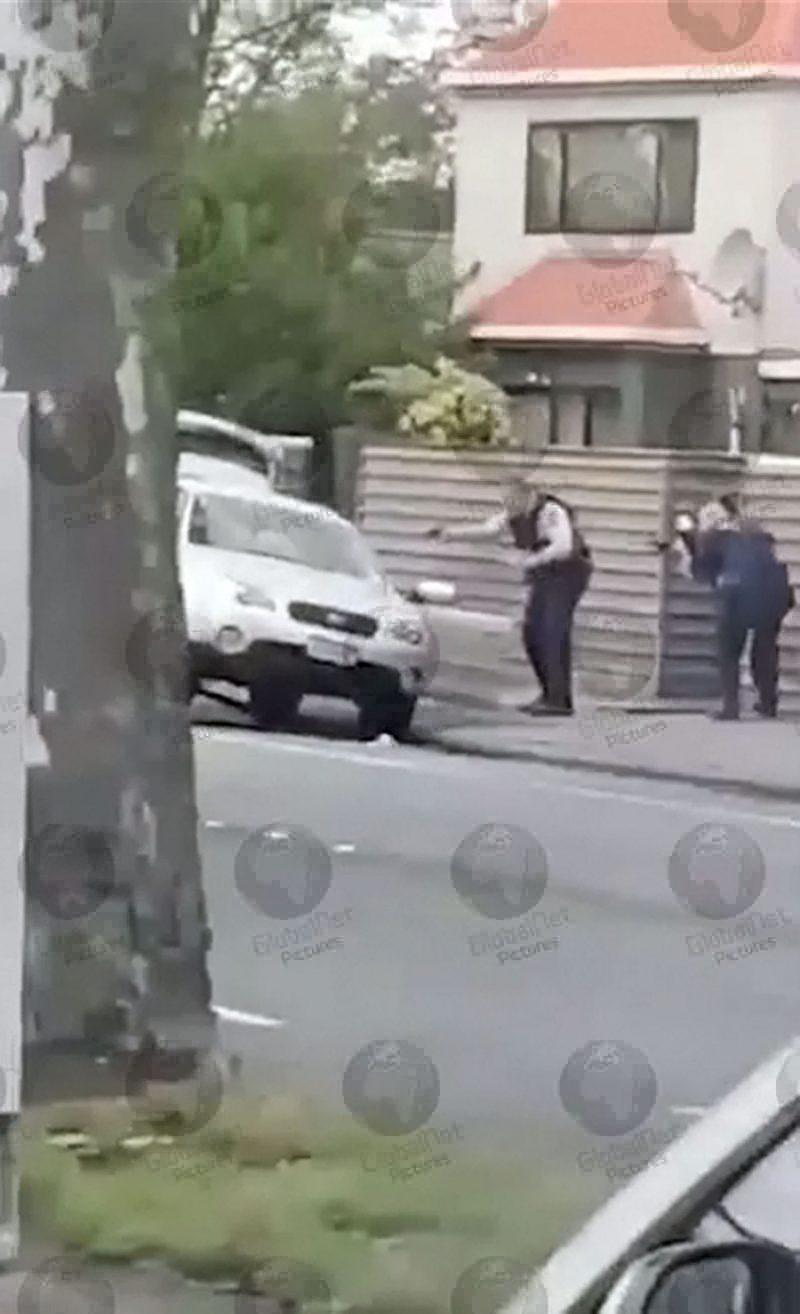 Footage filmed by a passer-by showing the dramatic arrest of Australian killer Brenton Tarrant shortly after he murdered 51 people
He showed no emotion as he listened to harrowing tales from survivors of the Christchurch murders and as their relatives relived the horrors and aftermath of the killings on March 15 2019 at two New Zealand mosques.
Brenton Tarrant, 29, pictured in court today 
Brenton Tarrant was in court on the first day of his four-day sentencing hearing. He drove to the mosques with a car loaded full of automatic weapons and then gunned down people inside.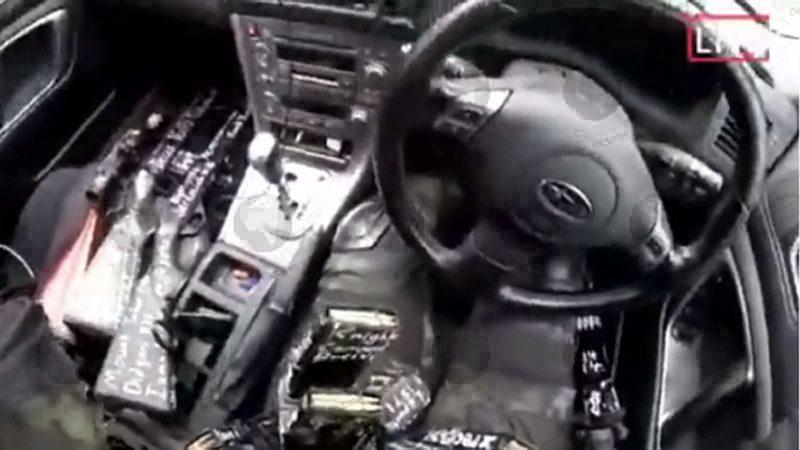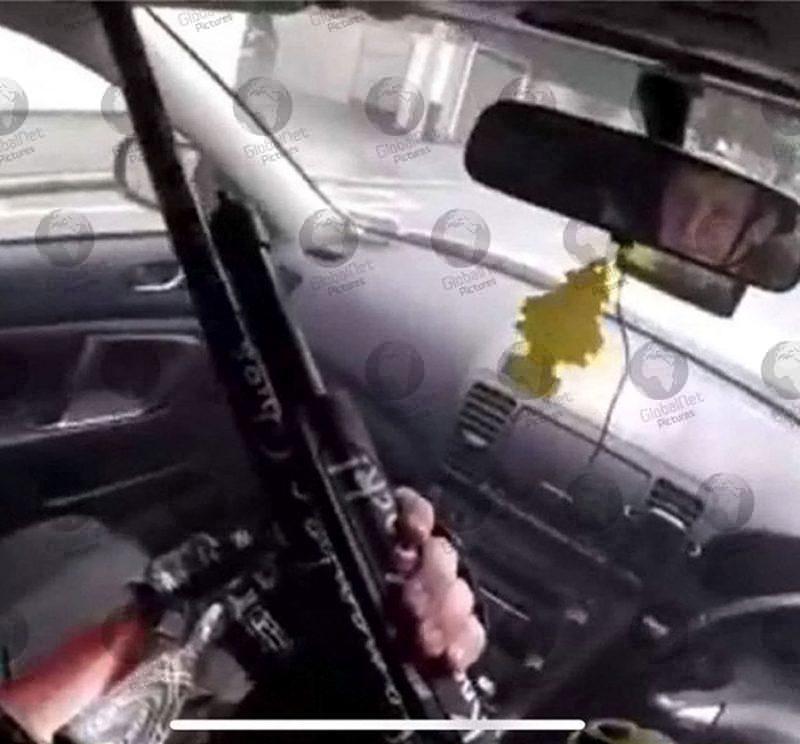 Still from footage live streamed on Facebook by Australian killer Brenton Tarrant, showing him driving towards a mosque with an automatic weapon in his hand and more on the passenger seat
Tarrant, who has been described as an Australian Brit, opened fire on muslim worshippers at two mosque locations in Christchurch, New Zealand.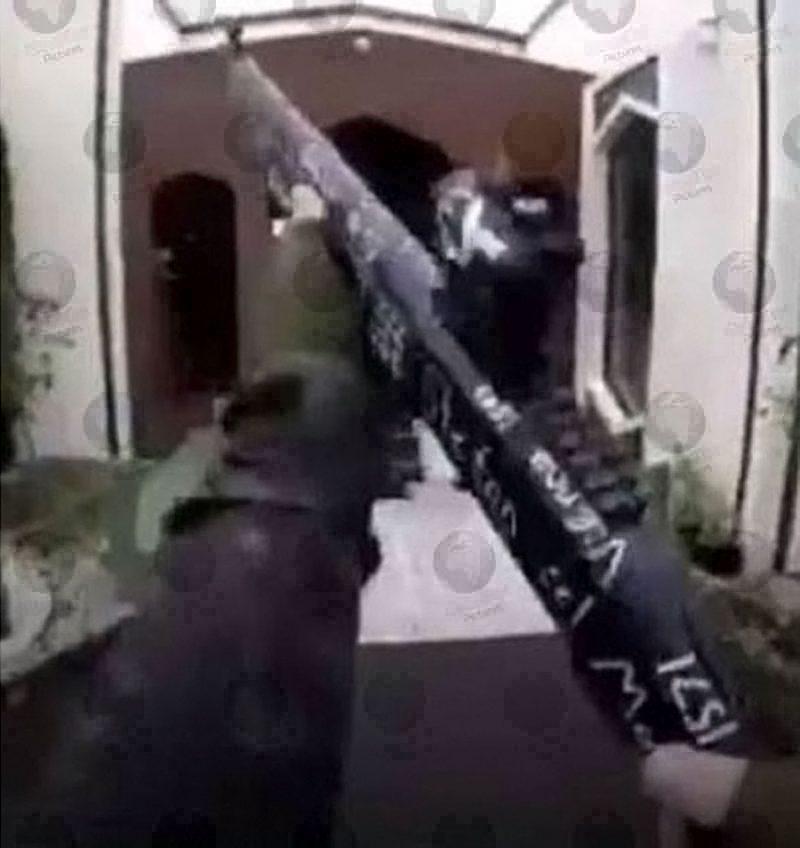 Tarrant at the entrance to a mosque carrying an automatic weapons moments before gunning down people inside
He live-streamed his rampage to Facebook from a head-mounted camera. The footage showed him firing indiscriminately at men, women and children from close range inside the Al-Noor mosque. He then drove about 5km to the Linwood mosque and killed more people. The attack, which came around the time people were attending the mosques for Friday prayers, was the deadliest in the nation's history.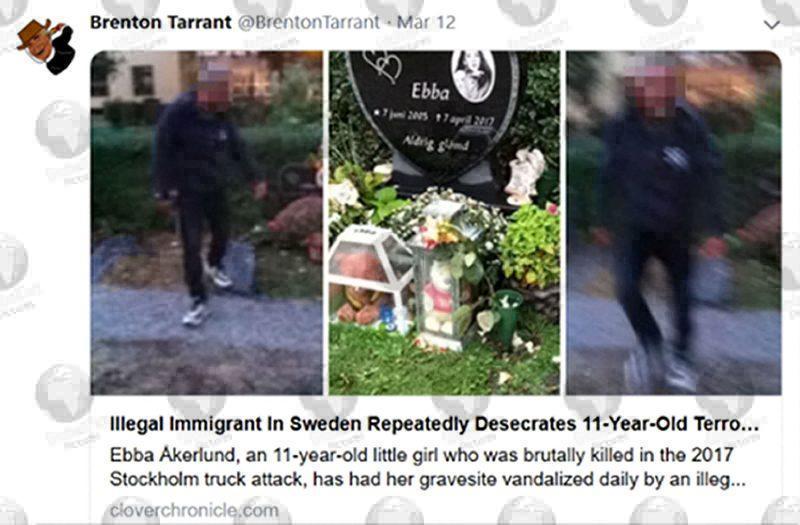 Brenton Tarrant posted pictures online of weapons and articles about terror attacks by muslims, including this one about an 11-year-old terror victim having her grave vandalised
Tarrant published a 74-page manifesto filled with racist conspiracy theories online before the attack outlining his intentions and in which he espoused far right and anti-immigrant ideology.
He has pleaded guilty to 51 counts of murder, 40 attempted murders and one charge of terrorism and faces life in prison, possibly without parole – a sentence never before imposed in New Zealand.
In court today he faced survivors and relatives of the victims.
Maysoon Salama, whose son Atta Elayyan was murdered, told him: "I can't forgive you… I don't think the world will forgive you for your horrible crime. You transgress beyond comprehension, I cannot forgive you."
"May you get the severest punishment for your evil act in this life, and hereafter."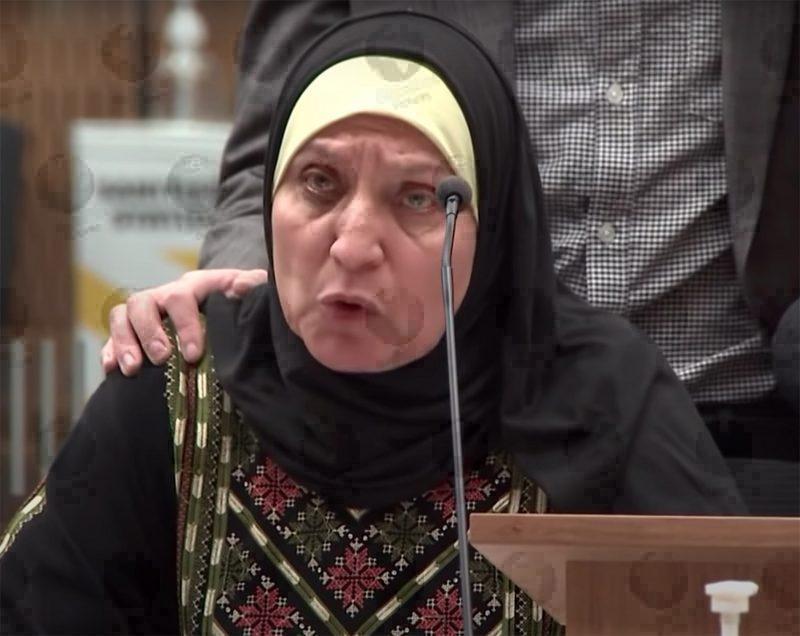 Maysoon Salama, the mother of 33-year-old Atta Elayyan, one of the victims, gives her testimony in court today 
The hearing heard Tarrant also planned to burn down the mosques and wanted to "inflict as many fatalities as possible."
Some of the survivors relived how they hid under bodies and said they still live with the sound ringing in their ears of an automatic rifle, giving their testimony at a hearing expected to be completed on Thursday.
Still from footage live streamed on Facebook by Australian killer Brenton Tarrant, showing him heading towards a mosque with an automatic weapon in his hands
Prosecutor Barnaby Hawes told the court that Tarrant was heavily armed when he opened fire on men, women and children, ignoring their pleas for help and even drove over a body as he moved from one mosque to the next.
Merciless Tarrant spotted three-year-old Mucad Ibrahim clinging to his father's leg and killed him instantly 'with two precisely aimed shots,' the prosecutor said.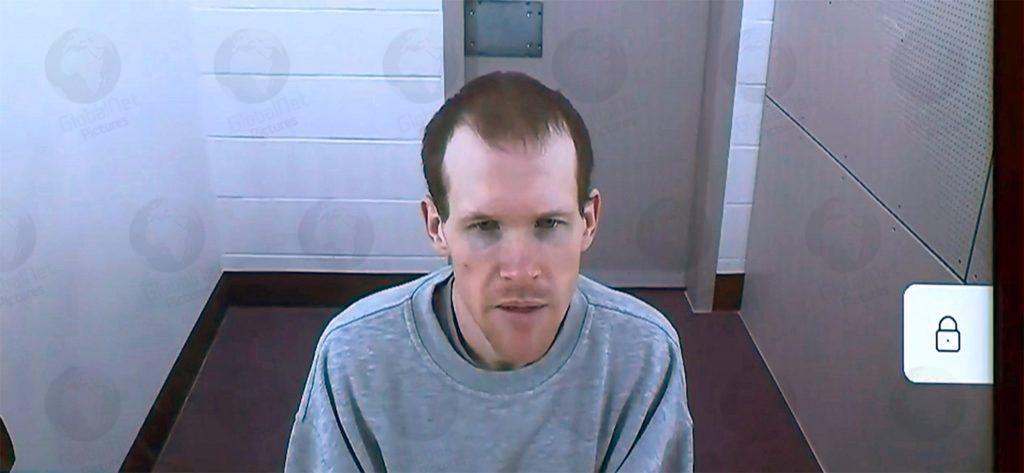 Brenton Tarrant pleads guilty (here) in March by live video link to killing 51 muslim worshippers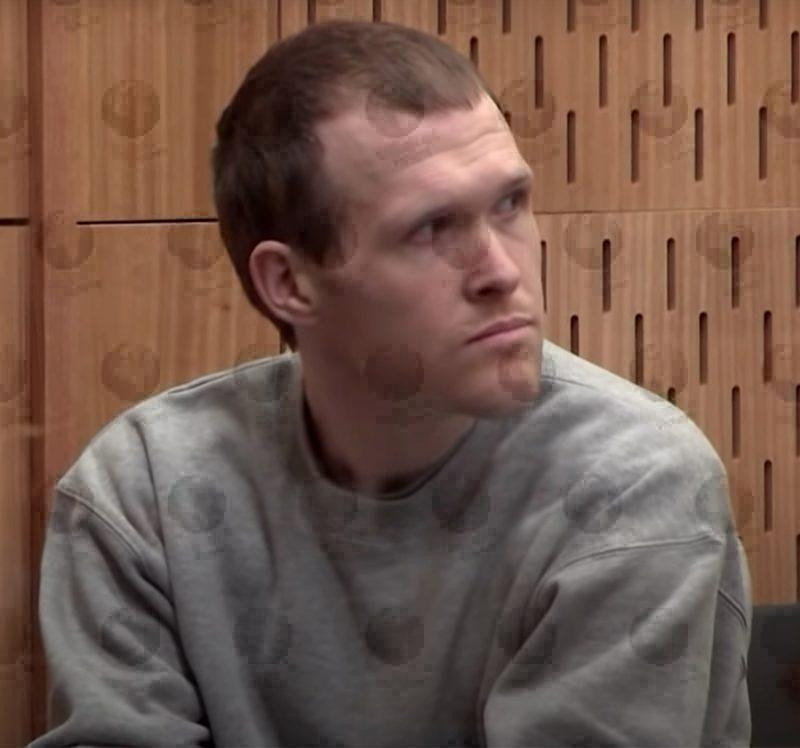 Mr Hawes said Tarrant 'admitted going into both mosques intending to kill as many people as he could,' adding: "He stated that he wanted to have shot more people than he did and was on the way to another mosque in Ashburton to carry out another attack when he was stopped."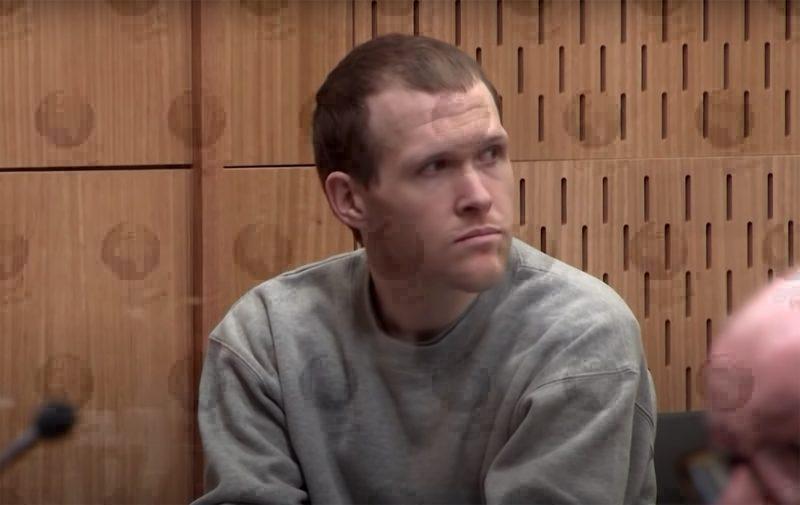 Tarrant was in possession of four modified gas containers which he planned to use to burn down the mosques after he finished shooting, he said.
"He intended to instil fear into those he described as invaders, including the Muslim population or more generally non-European immigrants."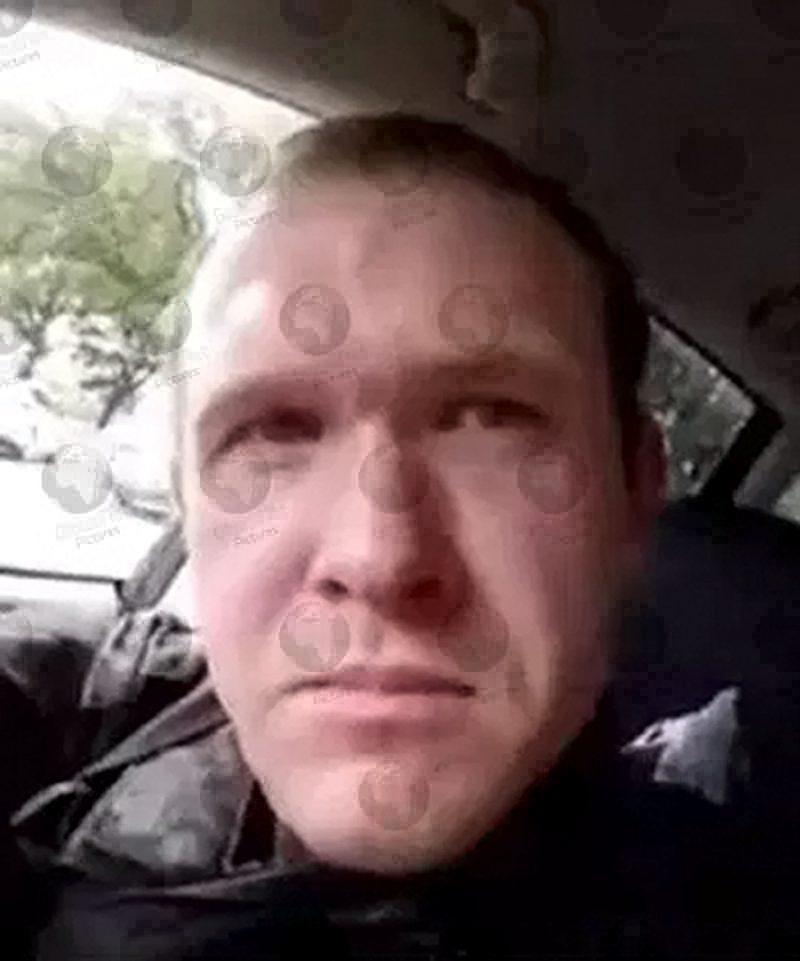 Tarrant live-streamed to Facebook
The hearing was held amid tight security with police snipers manned on the rooftop of the High Court in Christchurch and other buildings.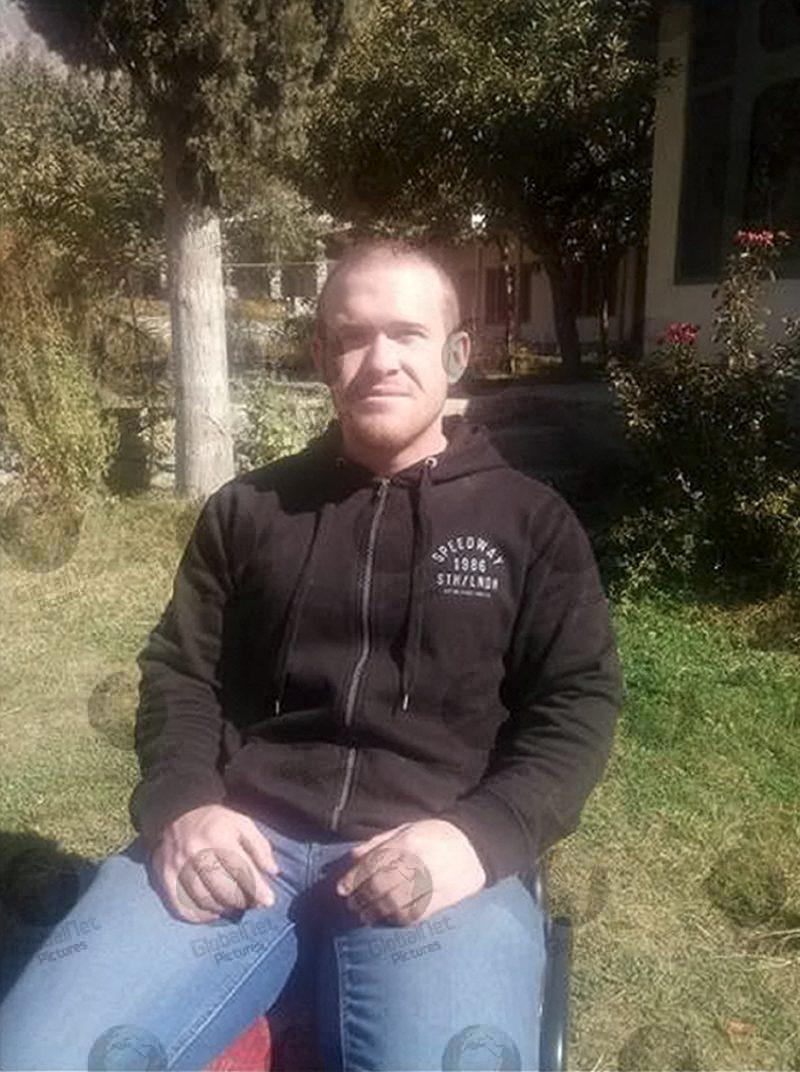 Tarrant came to New Zealand in 2017 where he based himself in Dunedin, 220 miles south of Christchurch, and amassed a collection of high-powered weapons, purchasing over 7,000 rounds of ammunition.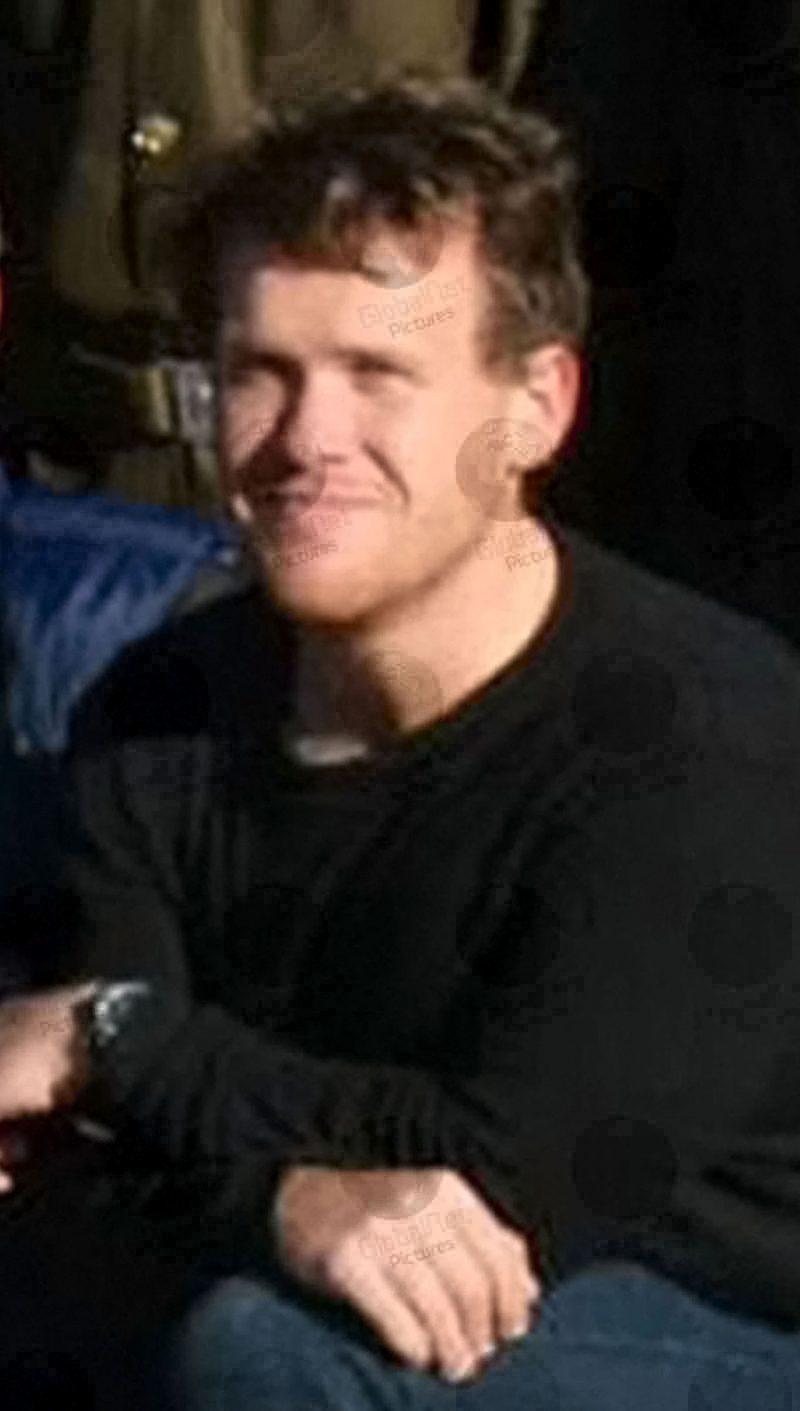 Prior to the shootings, two months before, he made a recce of his first target, driving to Christchurch where he flew a drone over the Al Noor mosque. He captured footage of the buildings and surrounding grounds, filming exits and entrances and made detailed notes about how he planned to travel between the mosque locations.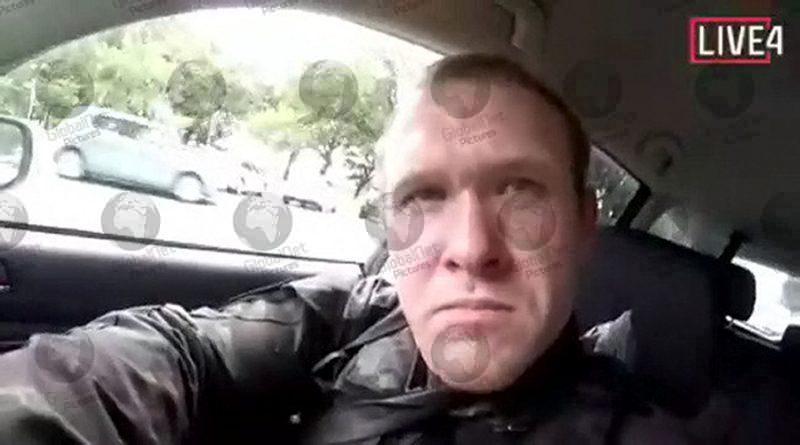 Tarrant live-streaming his rampage to Facebook
He later drove to Christchurch on March 15 in his car loaded with high-powered weapons from his base in Dunedin. He had written references, messages and symbols on the armoury, outlining the names of figures from the Crusades, historic battles, and recent terror attacks.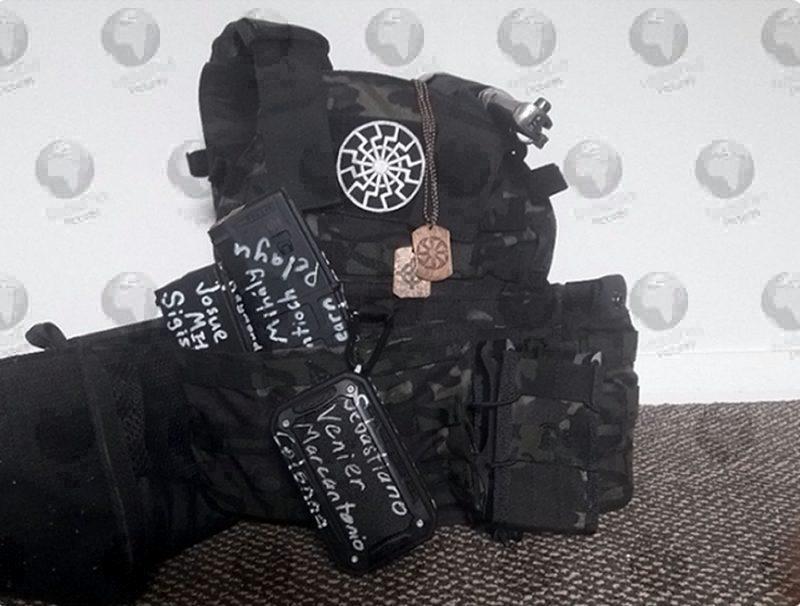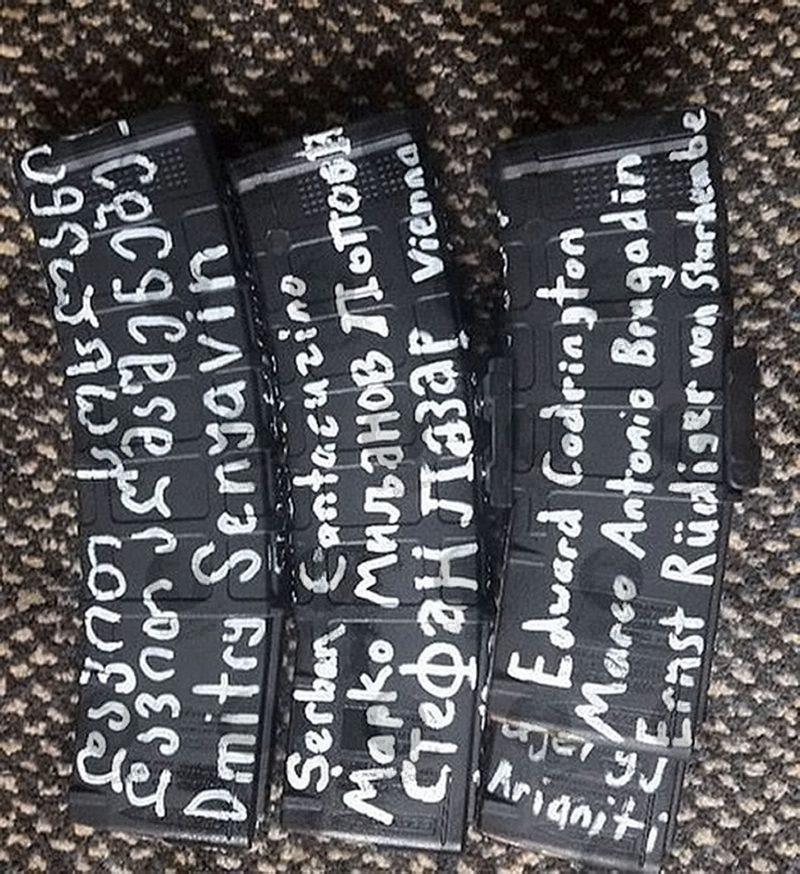 Tarrant timed his attacks to coincide with the moment the maximum number of worshippers were attending. There were 190 people present in the Al Noor mosque for Friday prayers at the time he strolled up to the building and struck.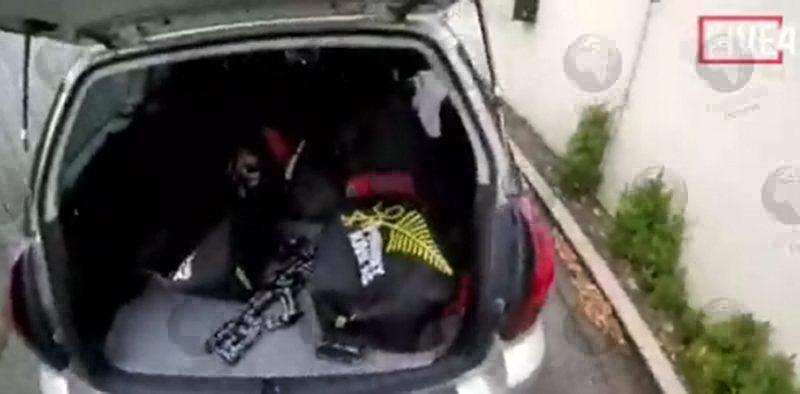 He had pre-loaded ammunition into the magazines of his weaponry and had a camera mounted on his helmet to record the shooting and had modified petrol containers 'to burn down the mosques and said he wished he had done so,' Mr Hawes told the courtroom.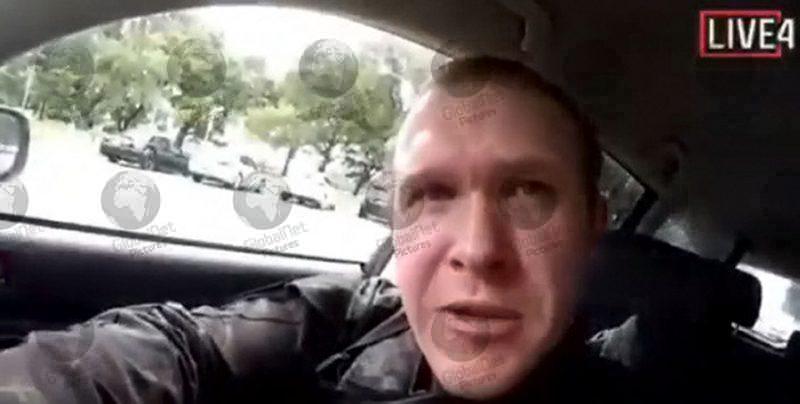 Tarrant is representing himself in court. The judge has imposed reporting restrictions preventing him from using the hearing as a platform to espouse extremist views.
Justice Cameron Mander is expected to sentence Brenton Tarrant to life in prison without parole on Thursday.
Media can create an account, login and see the material available to download below this story, or use the search facility when logged in to find more material.
Alternatively email pictures@globalnetpictures.co.uk
Follow us on Facebook, Instagram, Twitter and Linkedin #globalnetpictures #GlobalNet_Pics #BrentonTarrant #mosquemurders #whitesupremacist #NewZealand #massacre #AlNoormosque #Ashburtonmosque #sentencinghearing #Christchurch #Christchurchmurders