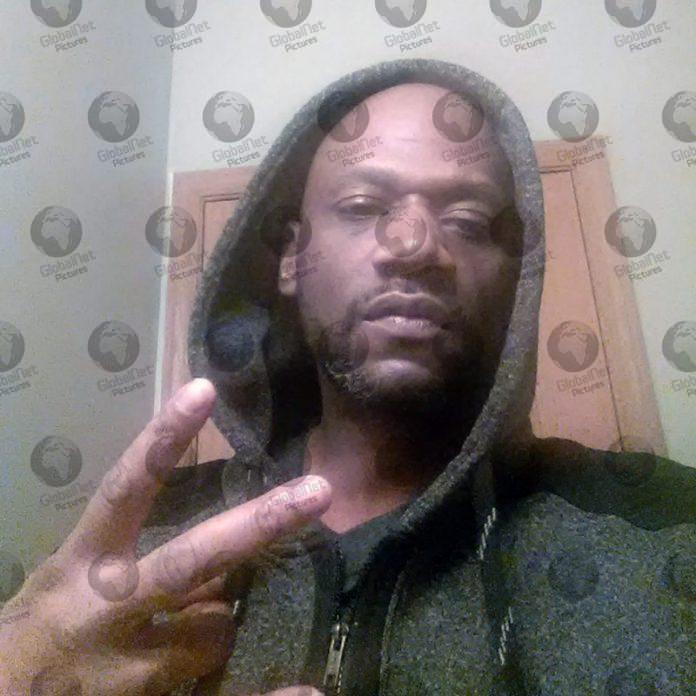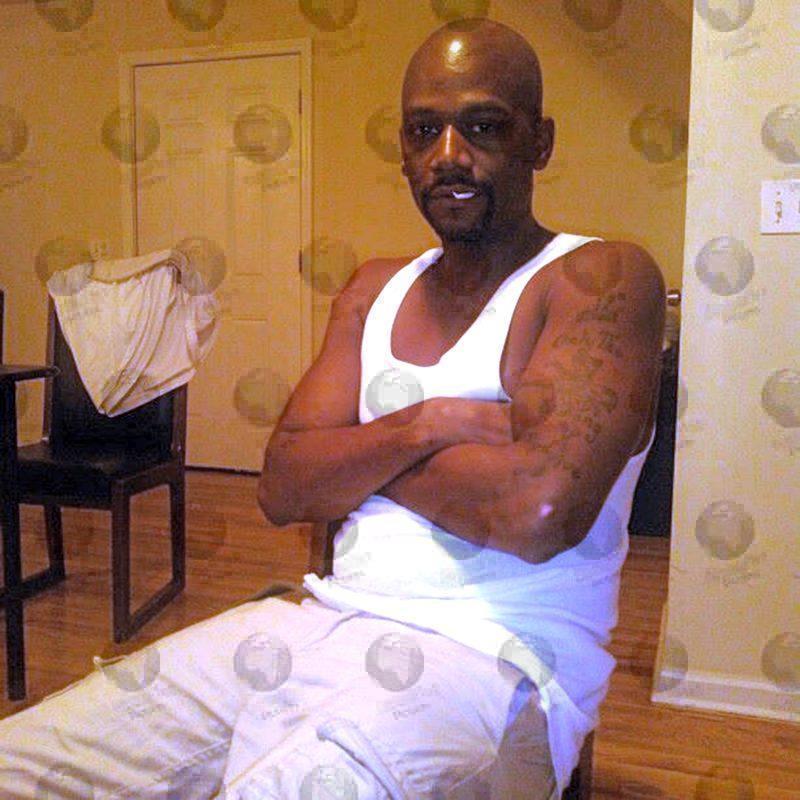 Joe Prude, the brother of Daniel Prude, 41, who died of asphyxiation in March after a group of police officers placed a hood over his head and then pressed his head into the ground until he stopped breathing, has called it 'cold-blooded murder.'
He has called it a 'lynching'.
Released police body cam footage of the incident shows an officer putting a hood over Daniel Prude's head as he sits naked and handcuffed on the ground in the street and then pressing his hooded head into the ground with two hands until he stopped breathing.
His death has been ruled by the medical examiner to be a homicide, caused by 'complications of asphyxia in the setting of physical restraint, excited delirium (and) acute phencyclidine (pcp) intoxication.
Daniel Prude was left brain dead following the treatment by the officers shown in the police body cam video footage and died seven days later on March 30 after he was taken off life support following the incident with police in Rochester.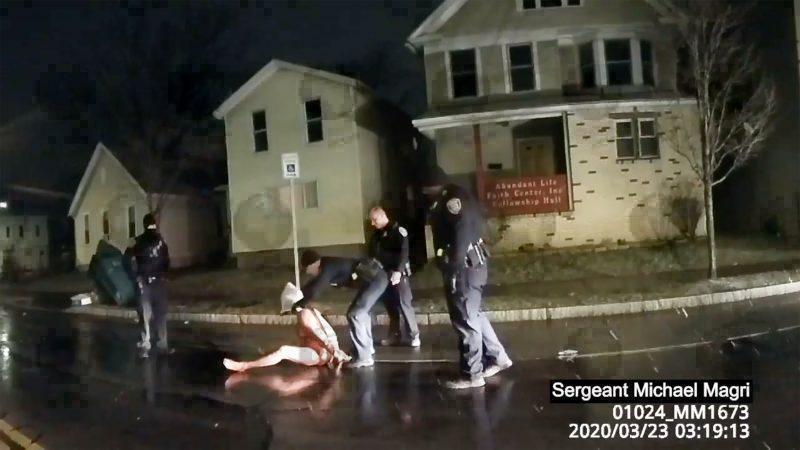 Police body cam footage showing the way police officers in New York dealt with Daniel Prude
The disturbing footage was recorded just weeks before George Floyd's death, which sparked nationwide and later worldwide protests.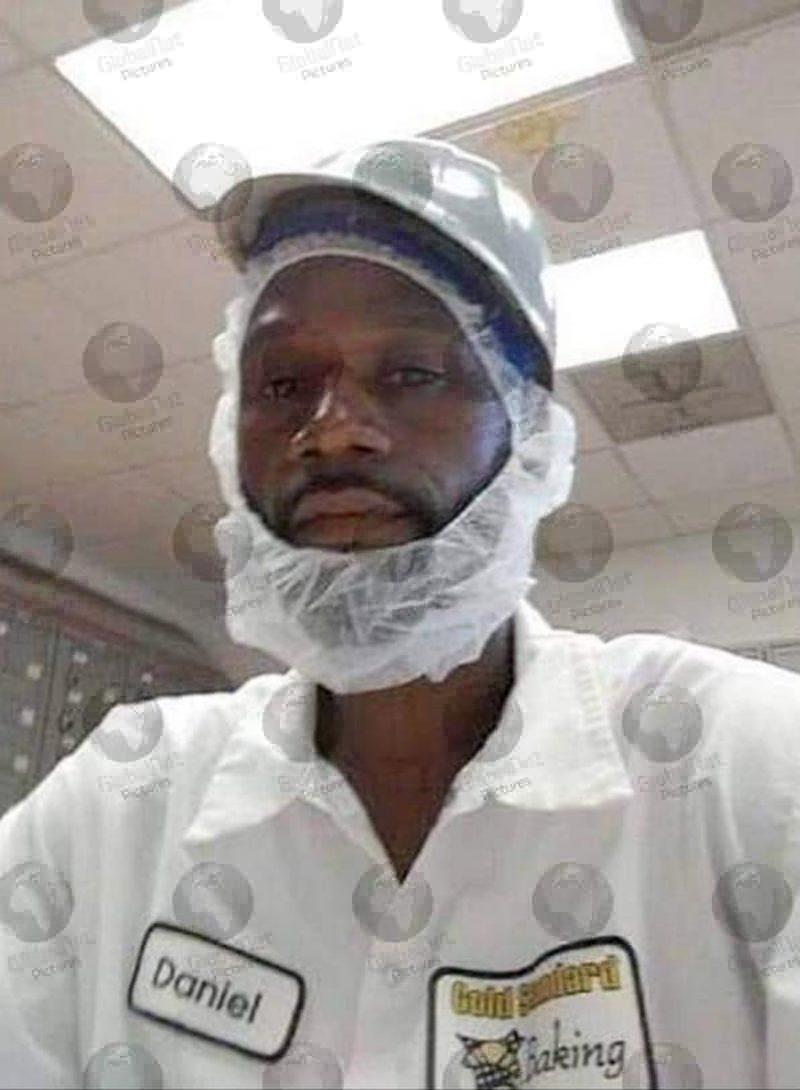 Up until now Daniel Prude's death has had little public or media coverage but that changed on Wednesday when his family held a news conference and revealed the released footage.
The family also obtained written reports of the incident through a public records request.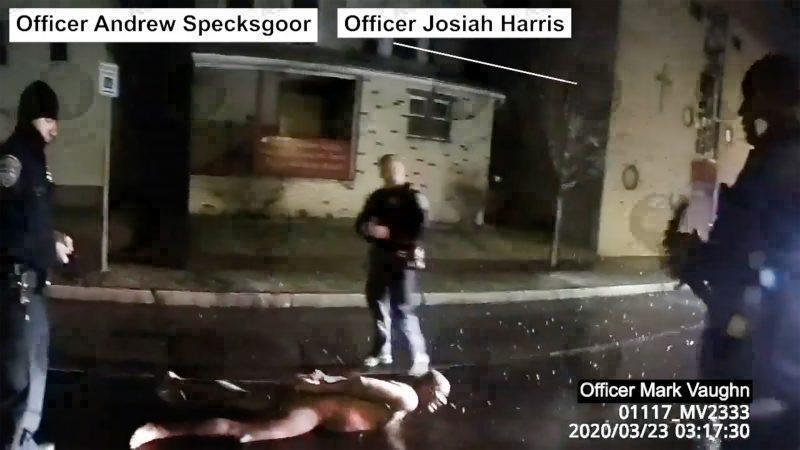 Demonstrators then gathered outside Rochester's Public Safety Building, which also houses the police headquarters, and there were a number of arrests. Demonstrators remained and demanded that the officers seen in the footage dealing with Daniel Prude are charged with murder.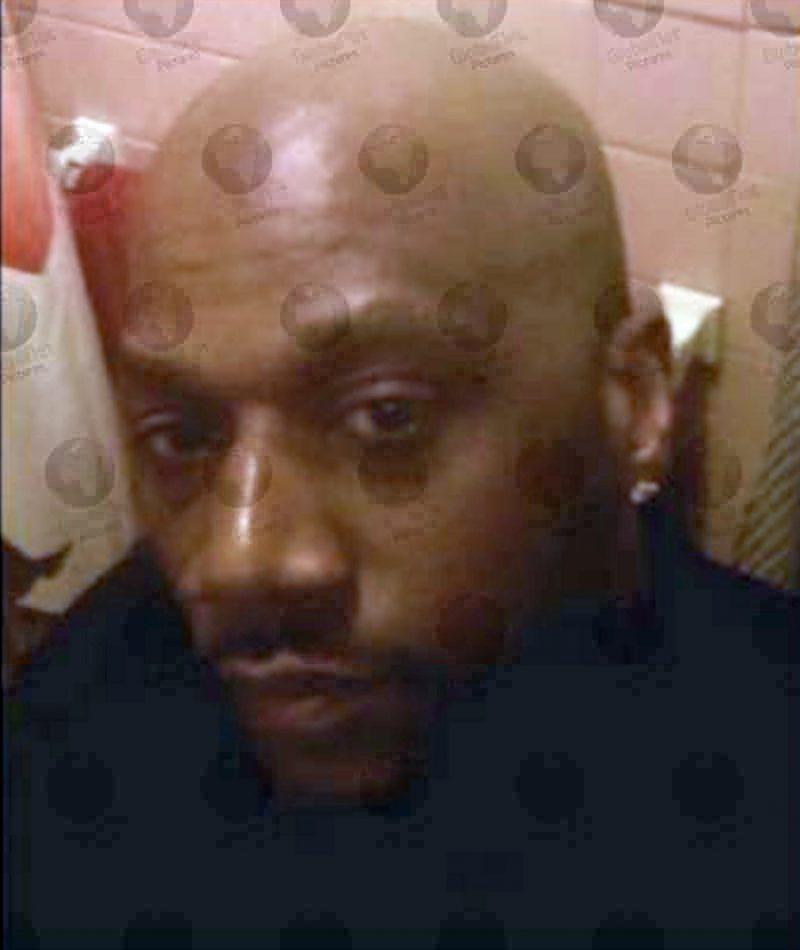 Joe Prude said: "I placed a phone call for my brother to get help. Not for my brother to get lynched, and when I say get lynched, that was a full fledged ongoing murder – cold blooded."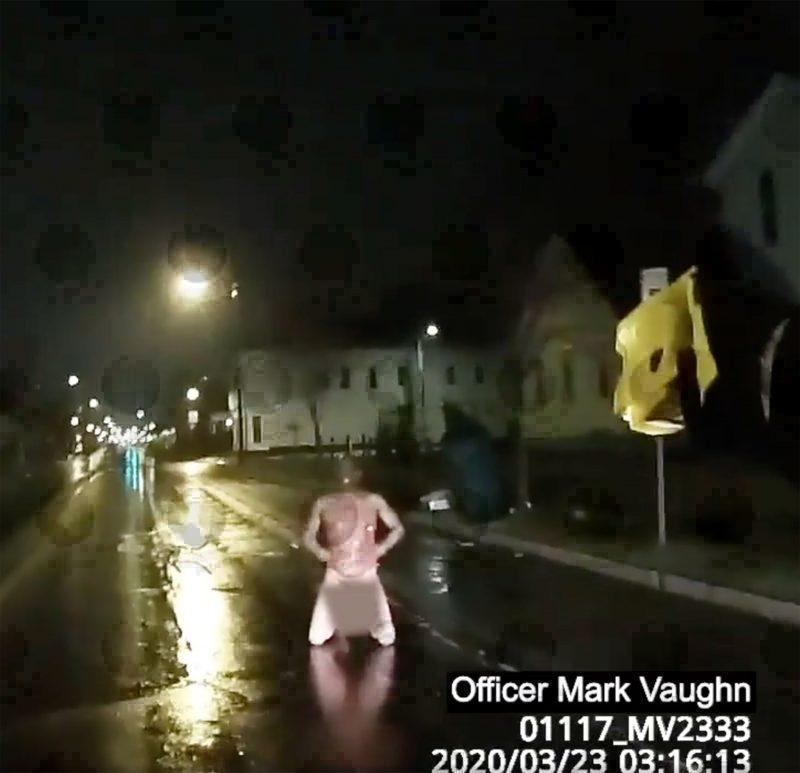 The released body cam video footage shows a naked but clearly agitated Daniel Prude being approached by police and then lying on the ground in handcuffs where he remonstrates with officers and spits out before they place a bag over his head.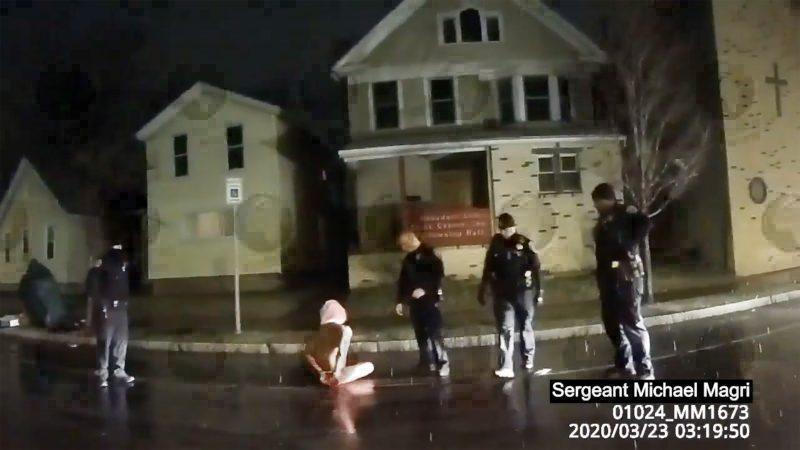 He continues remonstrating before he is pinned to the ground with one officer using both hands to push the side of Daniel Prude's head against the road for nearly three minutes.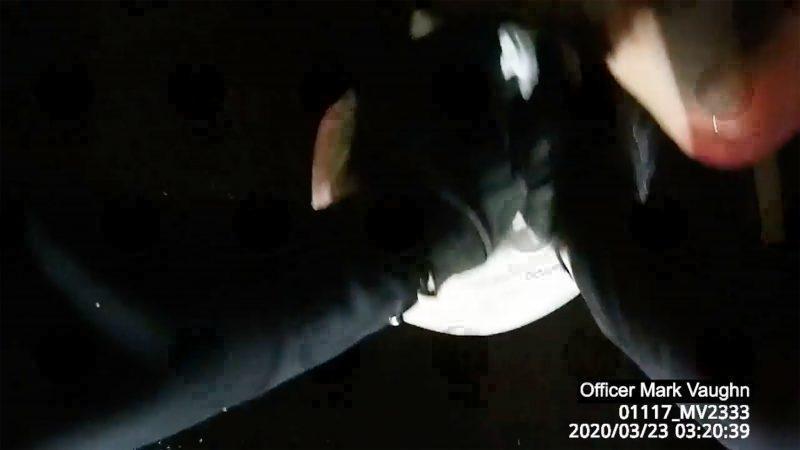 Two hands are used to pin Daniel Prude's head to the ground
Officer Troy Talladay can also be seen placing a knee into Mr Prude's back as he lays on the floor.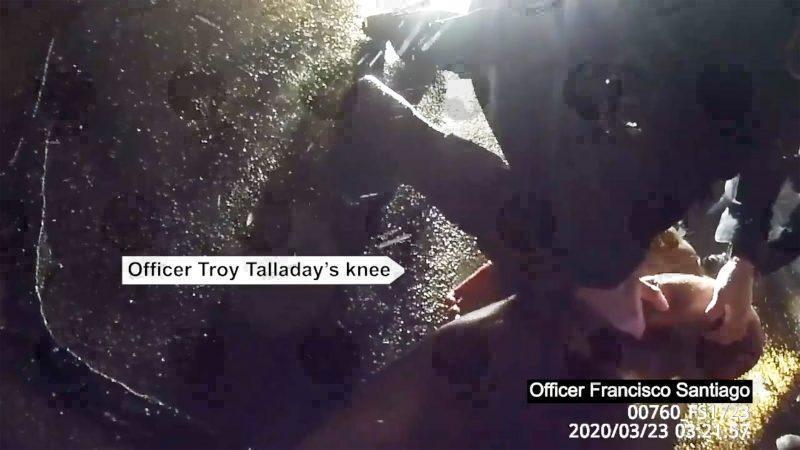 Prude continues to remonstrate before he finally suffocates and goes completely quiet. CPR is then performed on him to resuscitate him before he is transferred into an ambulance.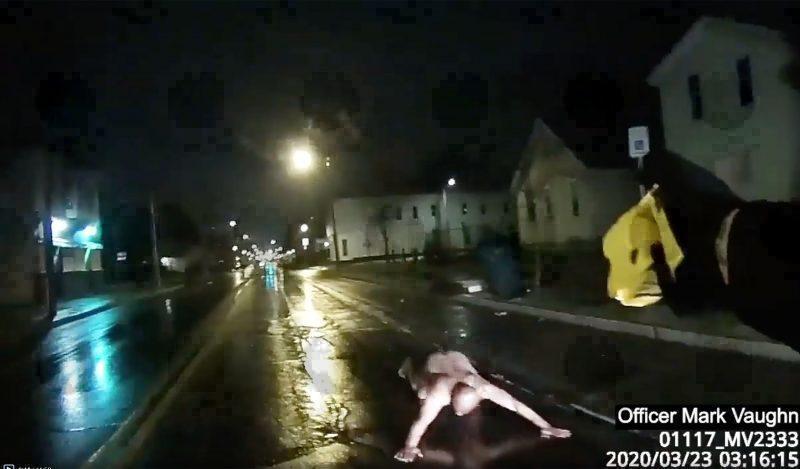 The encounter began at 3:15am on March 23, when his brother, Joe Prude dialled 911 to summon assistance for Daniel Prude, who was suffering an acute mental health episode on the 400 Block of Jefferson Avenue.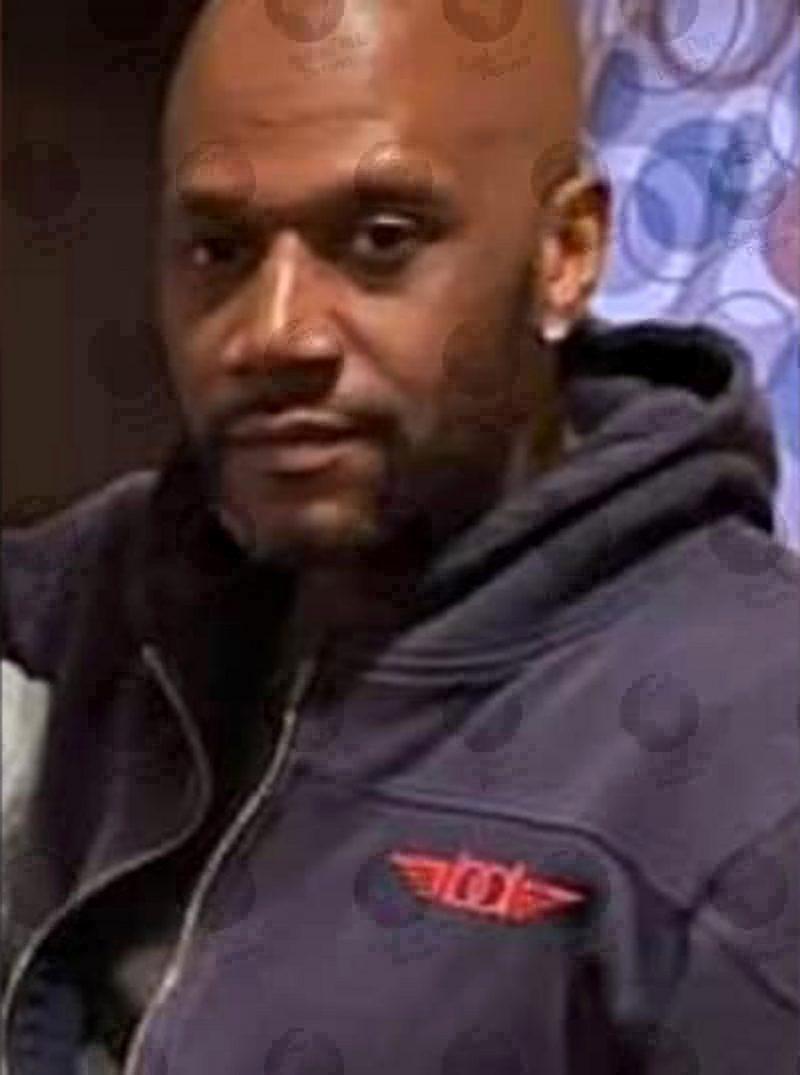 Prude left his home and made his way down West Main Street where he started removing all his clothes. Police said he was smashing windows before they arrived on the scene to find him naked in front of them in the street.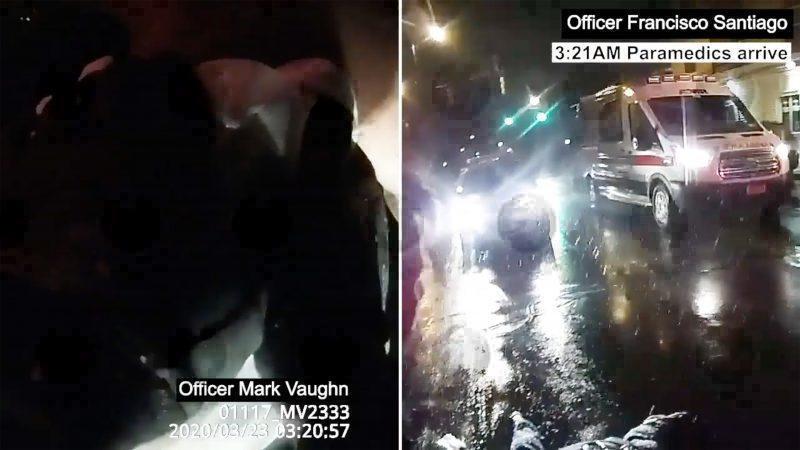 Prude was stopped by Officer Mark Vaughn from Rochester Police at 3:16pm. He pointed a taser at him and ordered him to lay on the ground and put his hands behind his back, to which he complied.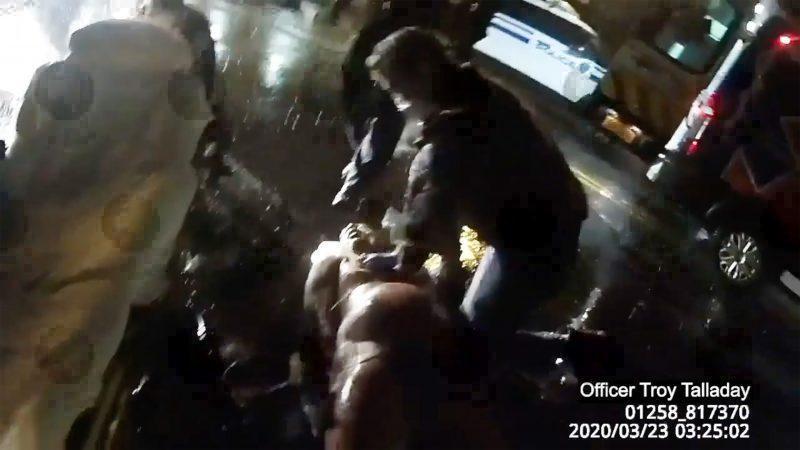 Officer Vaughn then handcuffed Prude as he lay on his stomach. Prude then begins to yell and spit as he lies completely naked on the snow covered ground.
Around three and a half minutes into the footage, one of the officers places a 'spit hood' over Prude's head, after he began spitting at them and saying he had COVID-19. New York was experiencing the early stages of the pandemic at the time.
Prude sounds delirious in the video as he embarks on an aggressive verbal tirade, shouting 'Jesus Christ' and 'Give me your gun, I need it'. Naked Prude also tells the officers to 'come and look at this big d***,' to which they respond by laughing.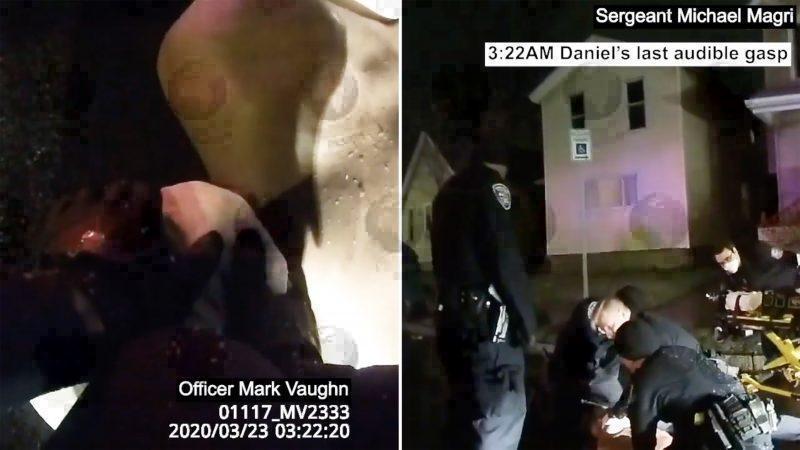 Prude was from Chicago and had arrived in Rochester on a family visit.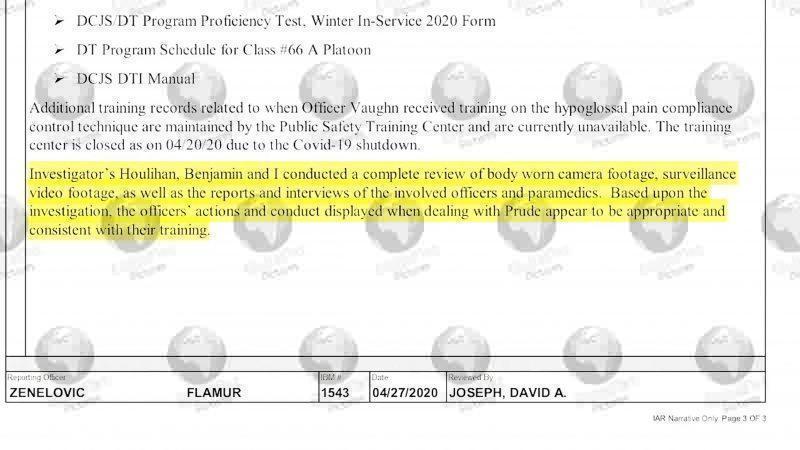 Police report finds the way police officers dealt with Daniel Prude was "appropriate and consistent with their training"
All of the officers involved in Daniel Prude's arrest have now been suspended. City Mayor Lovely Warren made the announcement on Thursday, a day after his family made the video public.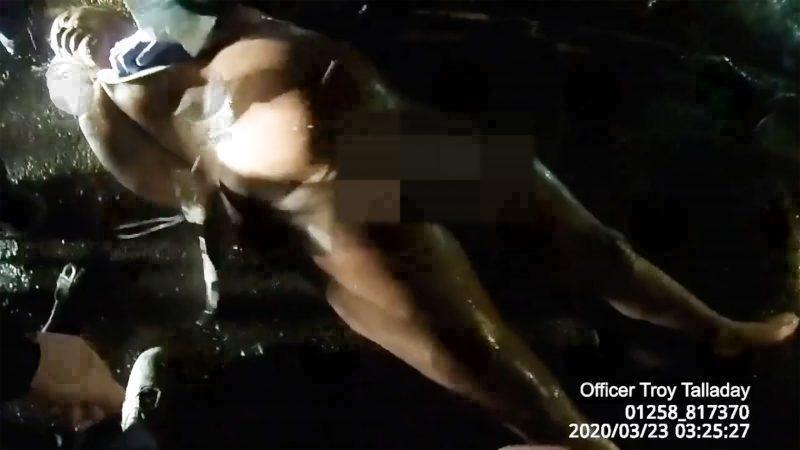 Prude's family have called for the seven officers involved in his arrest to be charged with murder.
After the officers suspension with pay Mayor Warren said: "I have never shied away from taking action and holding our police, or anyone that fails in their duties in our community, accountable.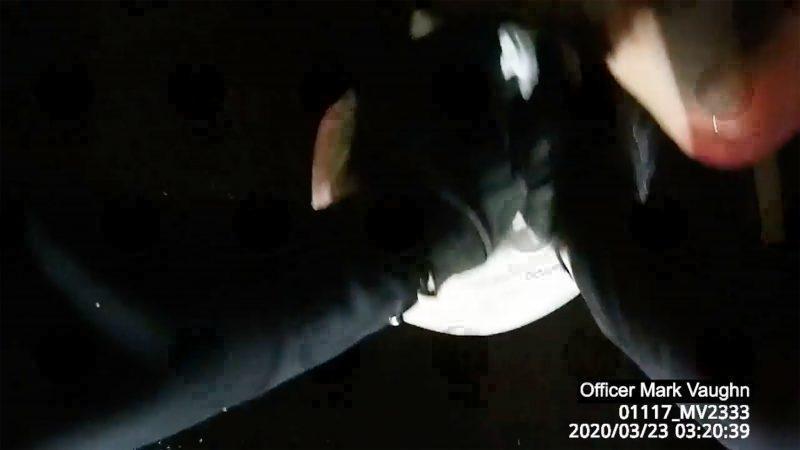 "That is why I am suspending the officers in question today, against the advice of counsel. You cannot stand around and allow these types of things to happen. You have a duty.
"Mr Daniel Prude was failed by the police department, our mental health care system, our society, and he was failed by me."
Create an account to login and download these images and see more available below…
Follow us on Facebook, Instagram, Twitter and Linkedin #globalnetpictures #GlobalNet_Pics #DanielPrude #asphyxiation #coldbloodedmurder #lynching #Rochester #phencyclidine #spithood #bodycam #pcp #intoxication