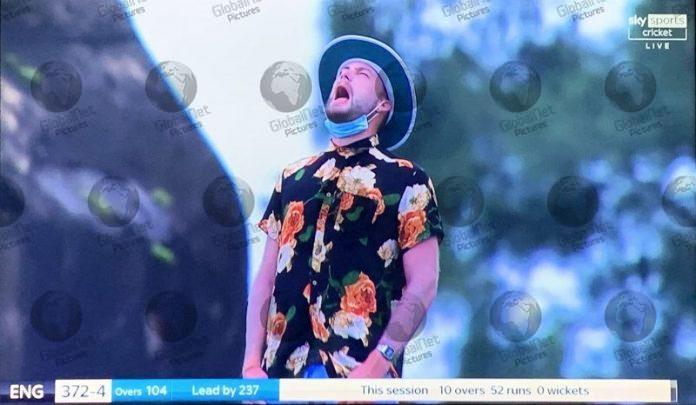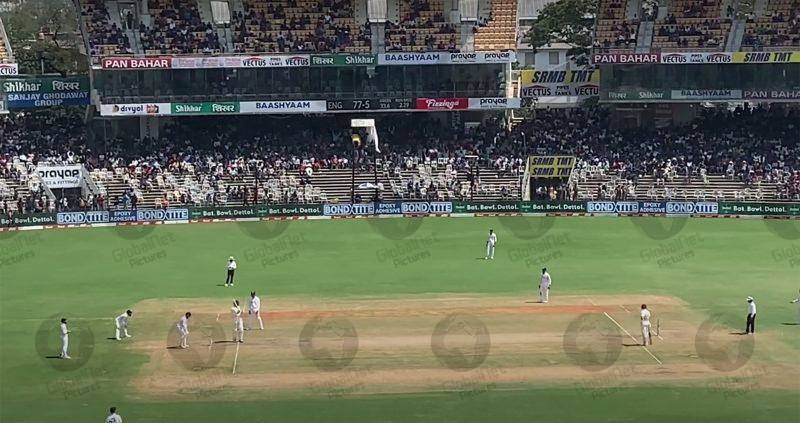 It's so strange to see but it's great. Real people, a real crowd – socially distanced of course – allowed in to watch India play England in the second test match in Chennai.
Being televised live on Channel 4 as I write, with England requiring a test record 482 to win, it doesn't seem to matter that much if we actually manage it.
To win would be brilliant for England cricket fans, but the best part of watching this match on TV in lockdown from our homes, is seeing that thousands of fans have been allowed into the ground to watch it live.
Hearing and seeing a real crowd making noise instead of just having a fake one added for atmosphere, as they cheer every run or delivery, has been a joy to witness from the general boredom and solitude of lockdown.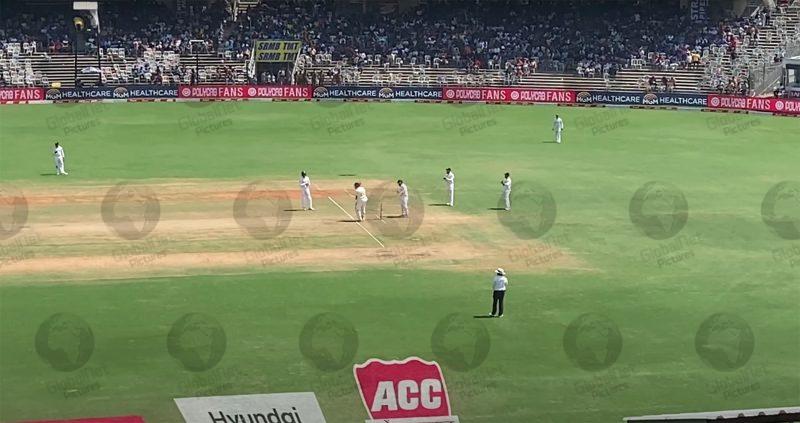 The opening day of the second test at the M.A. Chidambaram Stadium saw the return of 9000 fans at a venue in India for the first time in over a year. India have already played in front of a crowd in Australia, but for the England cricket team it is the first time they have heard a real audience since last February.
The Covid-19 pandemic restricted England to playing behind closed doors at home and abroad, but with India now slightly relaxing its attendance measures, three stands in Chennai have once again been opened up and the fans have returned.
The BCCI has allowed the 33,000 ground capacity to be up to half full after 50% occupancy was given the green light for sporting venues.
TV cameras show the crowd generally socially-distanced and with some wearing masks, but on closer inspection there are six members of the travelling so-called Barmy Army to be found among them. I wondered how they managed to get there. Did they flout Boris' international travel ban or have they discovered a cricket watching loophole to get to the game?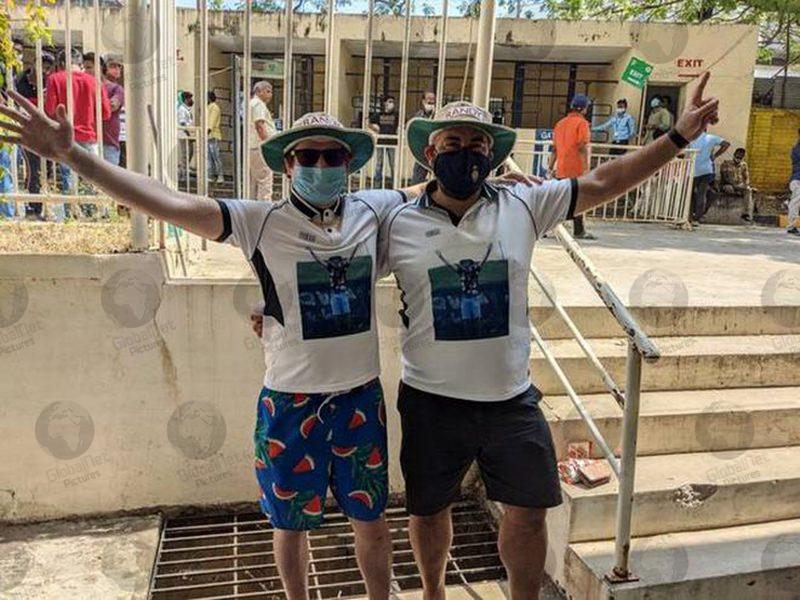 Barmy Army England cricket fans make their presence felt at the MAC stadium in Chennai on Saturday as they pose with T-shirts emblazoned with photos of fellow Barmy Army fan Rob Lewis
The six members of the Barmy Army at the match on Saturday actually consist of four expats living in India, one Australian and an American.
Joe Phelan, an expat from England living in Delhi, told thehindu.com: "I am part of the Barmy Army and the six of us are the Barmy Army for this Test match, making as much noise as possible. There are four from England, one Australian and one American."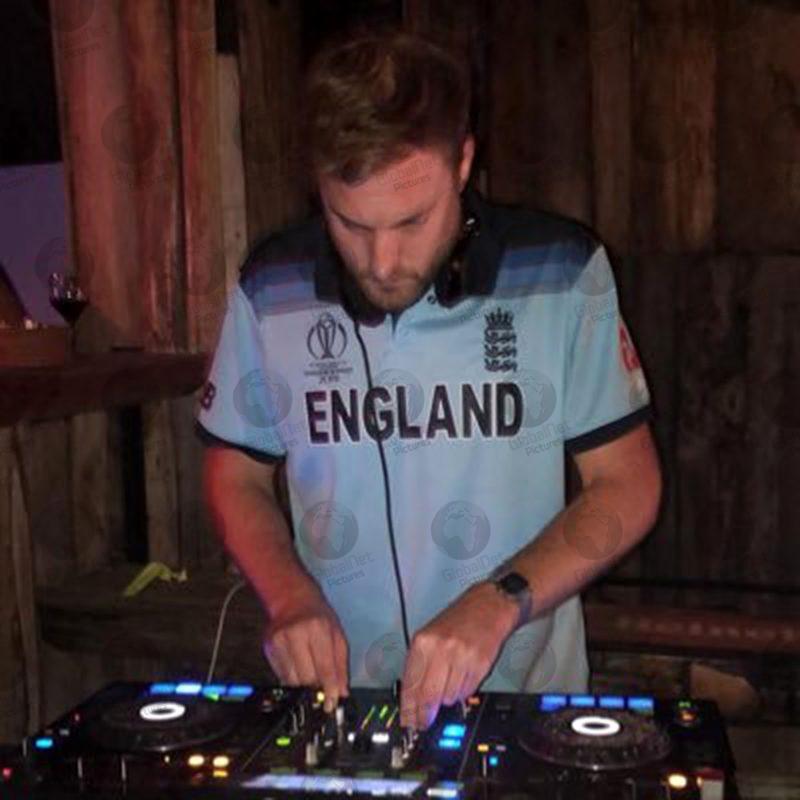 In Sri Lanka, Barmy Army fan Rob Lewis (above) made headlines as the only English supporter watching from the Galle Fort. England skipper Joe Root appreciated his efforts so much that he talked to him over the phone from the ground.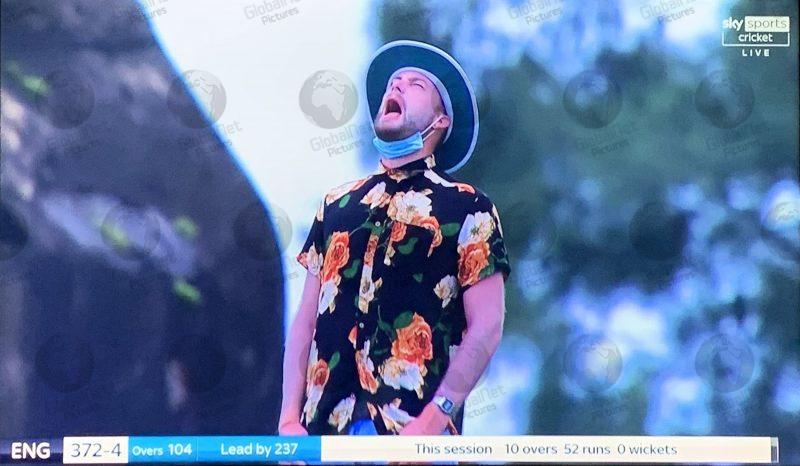 Rob Lewis in full cry singing 'Jerusalem'
Rob, a web designer from Sunbury-on-Thames, first flew out to Sri Lanka on March 13 2020. He found out on the flight that England's tour had been cancelled due to the pandemic, but decided to remain instead of flying home, determined to witness England playing cricket live again. His patience paid off as he watched the first day's play from the fort overlooking the stadium in Galle last Wednesday.
Lewis couldn't make it to the MAC Stadium but the Barmy Army six have an image of him watching from the Galle fort emblazoned on their T-Shirts.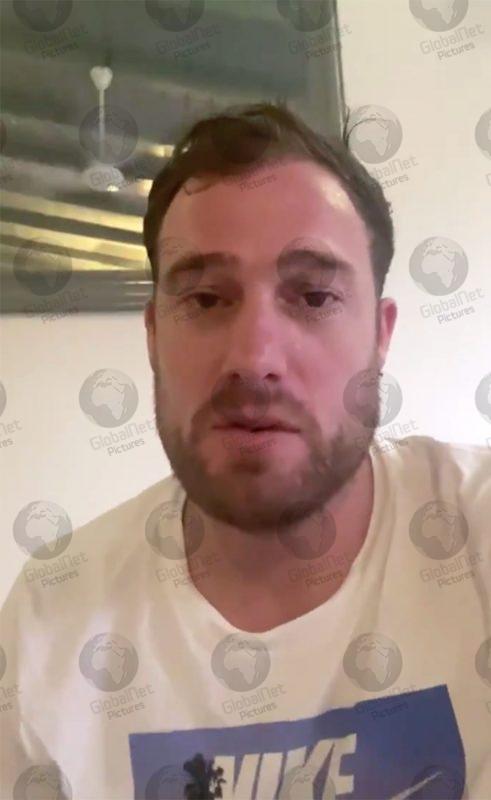 Rob Lewis on Twitter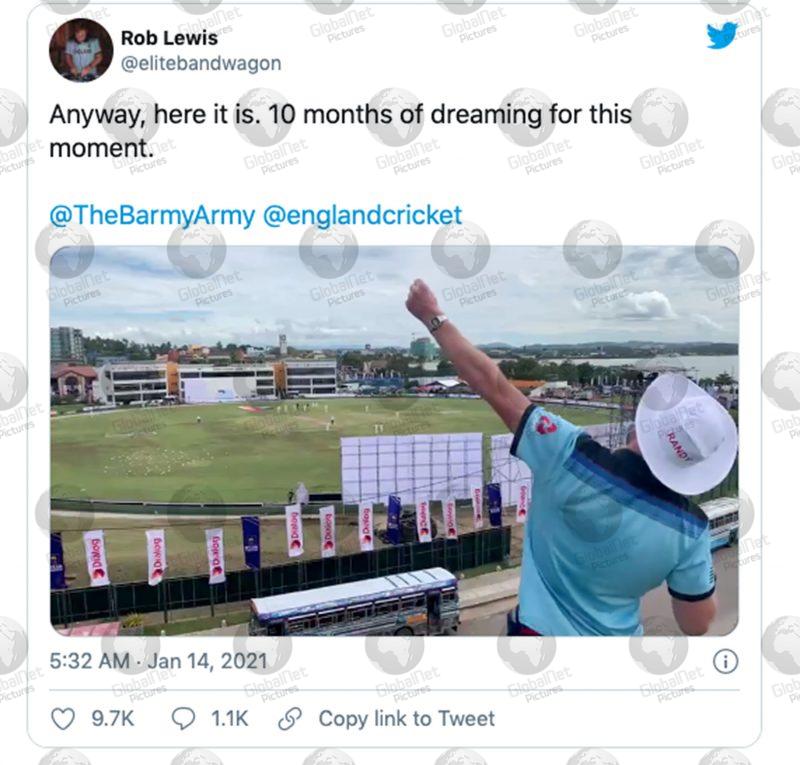 The Barmy American is Matthew Christensen, an engineer located in Delhi. The game was his first trip to a cricket match. He had read up on the game before travelling to India and  said: "When I moved, learning cricket was easier than learning Hindi for me as it is the language of the country to connect with the people here."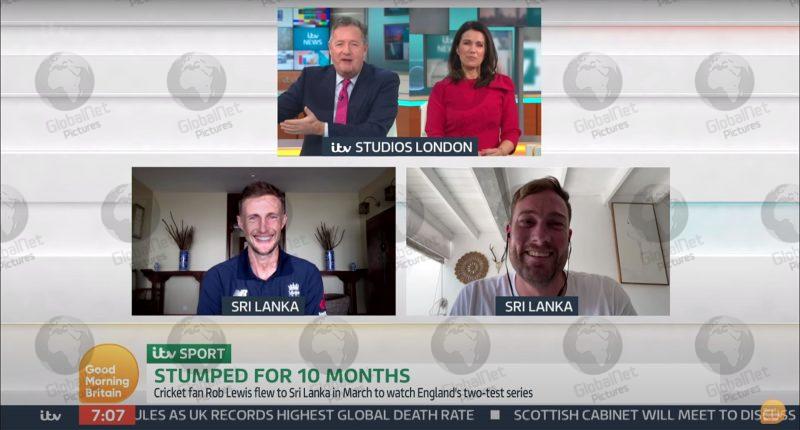 Rob Lewis and Joe Root on Good Morning Britain
Jo Phelan is loving seeing the action unfold. He told thehindu: "We would love to meet the England players, but with the COVID protocols, it is hard to do so. The players know we are here and we were able to get the attention of Moeen Ali and Jack Leach today. People are braving cold weather in England and a hard lockdown. They are seeing the sunshine in India and hoping that numbers can come down and some normalcy can return."
Back to the game and England are now stuttering at 55-3. Maybe Stokes and Olly Stone can turn things around, but that would require them both hanging around late into tomorrow evening.
Follow us on Facebook, Instagram, Twitter and Linkedin #globalnetpictures #GlobalNet_Pics #IndiavEngland #testcricket #BarmyArmy #Chennai #MACStadium #India #livecrowds #coronavirus